Volkswagen Australia's managing director Michael Bartsch says the ID4 SUV version of VW's new ID electric car range will be first to arrive in Australia, ahead of the ID3 hatchback which debuted at the Frankfurt show in September.
Volkswagen has already confirmed that the ID range will launch in Australia in 2022, but would not be drawn on exact timing or indicative Australian pricing and specification.
In Europe, the VW ID3 five-door hatchback goes into production later this year with customer deliveries commencing mid-2020.
"We will launch with the SUV, no question," Bartsch told WhichCar in Frankfurt. "You just have to look at the [Australian sales] numbers at the moment … the way the industry is going."
August 2019 sales figures from VFacts showed that SUVs claimed more than 60 percent of the new car market for the first time.
MORE: Everything you need to know about electric cars
"[August] will be memorable for the fact that it was the first time the mix between sedans, wagons, hatches and SUVs swung to 60 percent … 62 percent I think. Which is just extraordinary. Think of where we were, even just five years ago …", he said.
In 2014, SUVs accounted for just two in five new vehicle sales (excluding commercial vehicles). By the end of this year, they may account for two in every three.
While a forthcoming SUV model has not officially been confirmed by Volkswagen, the company has done everything but.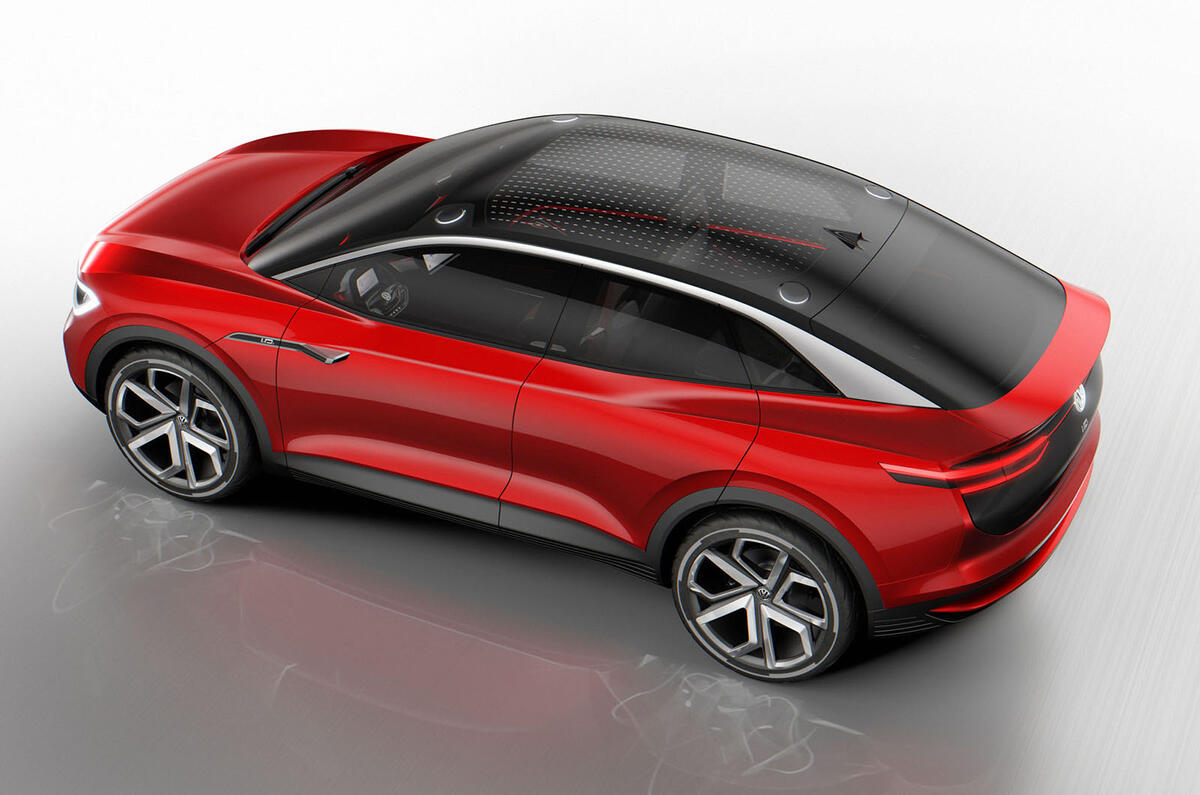 Part of the ID concept car range displayed alongside the ID3 production hatch included the ID Crozz electric crossover (above) which Volkswagen says has the interior space of a mid-size SUV in a body the size of a compact SUV, and is designed to "electrify your everyday ... whether you're in the city or out in the country".
PUSHING AHEAD: Government inaction won't slow EV progress: VW
Volkswagen also displayed an SUV-shaped, camouflaged car labelled 'ID Next' in a glass box on the stand.
Volkswagen has confirmed that 27 variants of the ID family are already in development and that it will launch 70 variants by 2028.  By then, it expects that more than 15 million MEB vehicles will have been produced.
Three 'versions' of the ID3 hatchback will be offered in Europe from 2020, priced from 30,000 Euro (A$48,000). The cheapest will have a 45kWh battery pack good for 330km range.
A second variant will have 58kWh/420km, and the third offers 77kWh and up to 550km.
At launch a first edition version of the 58kWh version will also be offered, complete with free charging for one year up to 2000kWh. 
VW says recharging can be as quick as 30min for 290km range if you have a 100kw charging outlet.
Volkswagen says the '3' in ID3 not only refers to VW's internal code for the compact hatch segment; it also references the '3rd generation' of the car after the Beetle (1st) and the Golf (2nd).
When asked if the VW ID3 could, therefore, spell the end for the Golf, Bartsch acknowledged "I don't think anyone believes anything is forever", but added it's also possible that Volkswagen will evolve what the Golf is to keep pace with the times.
"Even if the Golf as we know it now becomes a smaller and smaller and smaller mix, and ultimately it has to be re-looked at in concept, it doesn't mean the nameplate will go," he said. "The nameplate can also move with that evolution."
Bartsch said that little can be done to shorten Australia's long wait for the ID range's arrival Downunder, scheduled for two years after European sales commence.
"The fundamental issue that we're facing is that we are blinded by the reality of being south of the equator," he said. "This is all going to go out in the northern hemisphere first. 
"If I take it from a purely Volkswagen [Australia] brand point, I don't want to see too long of a delay because I think that if you're not in the market with an (electric) SUV in 2022 … then I think it would start having a drag effect on what your brand stands for."
MORE: The truth about electric vehicles in Australia
Bartsch said that electric vehicles are unlikely to take Australia by storm and quickly overtake sales of conventional petrol- and diesel-powered cars. 
"The ramp-up of electric vehicles isn't like, we're going to wake up tomorrow and 50 percent of cars will be electric," he said. "Even by 2040 I think the expectation is that maybe 40 percent of cars on the road will be electric.
"So as far as the consumer goes, I think it'll be ... a bit like putting a frog in cold water and turning the heat up. They won't know when it's boiling if you do it gradually."