Motorsport
Australian racer escapes shocking F3 shunt
Tasmanian-born F3 racer Alex Peroni walks away from huge airborne crash in Monza
8 Sep 2019
Tasmanian racer Alex Peroni has walked away from a frightening crash almost unscathed, after his Formula 3 car became airborne at a race in Monza, Italy.
The 19-year-old is recovering from a cracked vertebra and concussion, after flying nearly 50m through the air and smashing upside down into a tyre barrier.
The crash happened near the end of the first race of the Italian Grand Prix weekend in Monza, and saw the race finish under yellow flags.
From the video, it appears Peroni wandered wide of the racing line coming into the high-speed last corner, but instead of sliding across a tarmac run-off area, his car struck a sausage-shaped kerb that sent the car airborne.
The sail-like underside of the lightweight F3 race car then kept it airborne before it smashed into a tyre barrier, narrowly missing a marshall's post on the outside of the fence line.
Peroni was extracted from the car and walked unaided to a medical vehicle, but was later taken to hospital.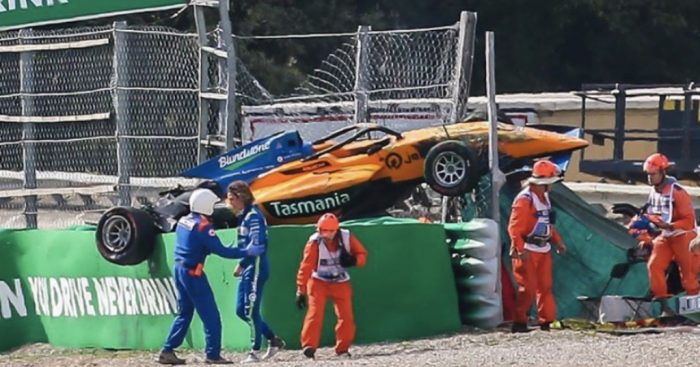 He's been diagnosed with a cracked vertebra and concussion.
"Alex is currently in hospital and he has been immobilised until further scans are performed on his back on Sunday," read a post on his Facebook page.
"His D6 vertebra has multiple fractures and the medical staff will decide tomorrow if it's necessary to operate. Alex is also recovering from concussion with his helmet extensively damaged."
The frightening crash comes just one week after the death of French Formula 2 racer and F1 hopeful Anthoine Hubert, who was killed when his stricken car was hit at high speed at Spa in Belgium.
The other driver in that accident, Juan Manuel Correa, is in an induced coma in a London hospital, after suffering complications in the wake of the crash. He is listed as critical but stable.
The offending kerb has since been removed from the Monza circuit, after criticism from many quarters.
Former F1 driver and current Grand Prix Driver's Association chairman Alex Wurz said "the reason FIA started to removed high exit kerbs brings us to Imola 1994 [where Roland Ratzenberger and Ayrton Senna were killed]."
"I don't like sausage kerbs, I never did and today in F3 here in Monza we had yet another reminder that they are (in most places) a bad solution."
Peroni's team was quick to credit the implementation of the new roll-over protection system - known as the halo - for his miraculous escape.
"Alex's life was saved by the halo, his helmet and the robust modern survival cell," read the post. "Team Peroni wish to pay tribute to all of those people that have lobbied for constant progress in relation to safety."
Peroni will return to Tasmania to recover as soon as he's able.
How are you finding our new site design? Tell us in the comments below or send us your thoughts at feedback@whichcar.com.au.
Subscribe to MOTOR and save up to 49%
The world's most thrilling performance car magazine. Delivered to your door each month.
Subscribe