First Ford EV ever
Denotes an expansion of the Mustang brand
Will undercut key EV SUV rivals on price
For the first time in its 116-year history, Ford has introduced a mass-market electric vehicle and it wears one of the most iconic badges of all time. It's named the Ford Mustang Mach-E – a lot to live up to, then.
Ford's first EV will borrow the Mustang name and is said to be an expansion of the Mustang family, rather than a new model just sharing the name.  
Read more: Ford says battery tech too immature for performance EV
The Mustang Mach-E experience promises to follow along with the traditional Mustang spirit, both in terms of design and its unique driving experience.
"The Mustang Mach-E wholeheartedly rejects the notion that electric vehicles are only good at reducing gas [petrol] consumption," said Hau Thai-Tang, Ford's chief product development and purchasing officer.
"People want a car that's thrilling to drive, that looks gorgeous and that can easily adapt to their lifestyle."
The styling does stay true, with a very familiar-looking face featuring angled headlights joined by a Pony badge on the front, while the iconic tri-bar taillights are prominently displayed on the rear.
Ford says this all-new, all-electric SUV has the beans to back up the claim about providing an exhilarating drive experience too, with the range-topping Mustang Mach-E GT said to hit 100km/h in under four seconds, thanks to an all-wheel-drive layout channelling the 342kW and 830Nm outputs of a 75.7kWh lithium-ion battery (a 98.8kWh extended range battery is available).
Ford 'Mustang-inspired' electric SUV is happening
Ford is prepared to offer the Mustang Mach-E in a huge variety of specifications, whether they be rear-wheel or all-wheel-drive, standard or extended-range battery packs and with a number of different trim grades as well.
Specifications start off with the $43,895 (AU$64,469) Select, rising to $50,600 (AU$74,316) for the Premium, $52,400 (AU$76,960) California Route 1 and topping out with the $60,500 (AU$88,856) GT. To be first in line, however, you'll have to opt for the $59,900 (AU$87,969) First Edition.
This pricing structure instantly undercuts every other electric SUV on the market in the US, including the Audi e-tron, Jaguar iPace and Tesla Model X.
As a minimum, Ford is claiming a range of 480 kilometres from a full charge using its extended-range rear-wheel-drive car, but final details regarding range will come ahead of its release next year.
Read next: Tesla unveils Model Y
Standard range Mustang Mach-Es is said to go from 10 percent charge to 80 percent in 40 minutes when connected to a DC fast charging station. But for those charging at home, Ford will also offer a Connected Charging station that can add an extra 51km of range for each hour it's on charge.
The interior is also wildly different from the Mustang we know, following Tesla's style of offering a minimalistic design and huge touchscreen in pride of place on the dash. The new 15.5-inch screen will feature a brand new version of Ford's SYNC infotainment system that mimics the intuitiveness of a smartphone.
Ford says the move to electrification is advantageous in terms of space too, apparently catering for five people comfortably while retaining space for luggage in the front (with a 135-litre 'frunk' space) and the boot (821 litres with the seats up).
The Ford Mustang remains popular in Australia but for this new Mach-E, we're not so sure. We've asked Ford Australia for the likelihood it'll feature in Australian showrooms, and we'll update this article when we hear back.
Click the top photo to scroll through an image gallery of the new Ford Mustang Mach-E.
---
Should arrive in 2020
Based on a Mustang
It'll potentially be called the Mach-E
Ford's future is electric, it's also going to be Mustang-shaped and we're going to see it next month. A new teaser revealed the Pony-car inspired silhouette of the new car, and also gave a reveal date of 18th November. 
But while Ford was releasing teasers, one Instagrammer has gone one better and accessed CAD drawings that preview the whole design.
It seems someone's let slip early, with the computer-generated renders paving the way for the AllCarNews Instagram account to then complete a rendering.
Ford has been keeping pretty tight-lipped in the lead up to its new car release, so it's hard to tell whether AllCarNews is on the money, but the CAD designs supplied do look similar to the silhouette teaser that the manufacturer itself released last week.
According to them, the car will be named Mach-E and they claim 'insiders' gave them input on the design of the car.

Imagination supplied by AllCarNews
Between the CAD renderings and teasers we've seen before, it seems the imaginations they've created are as close as we've ever been to seeing the real thing.
You can see the classic Mustang taillights feature, and the raked roofline that tapers more toward SUV-coupe style rather than all-out SUV.
The front fascia also remains quite accurate to previous teasers, with a slightly-inset 'grille' nestled in between a pair of Mustang-like headlights.
Ford has previously announced it'll target an almost 500-kilometre range with its new EV SUV, which matches up fairly closely with fellow-American EV rival Tesla's new Model Y.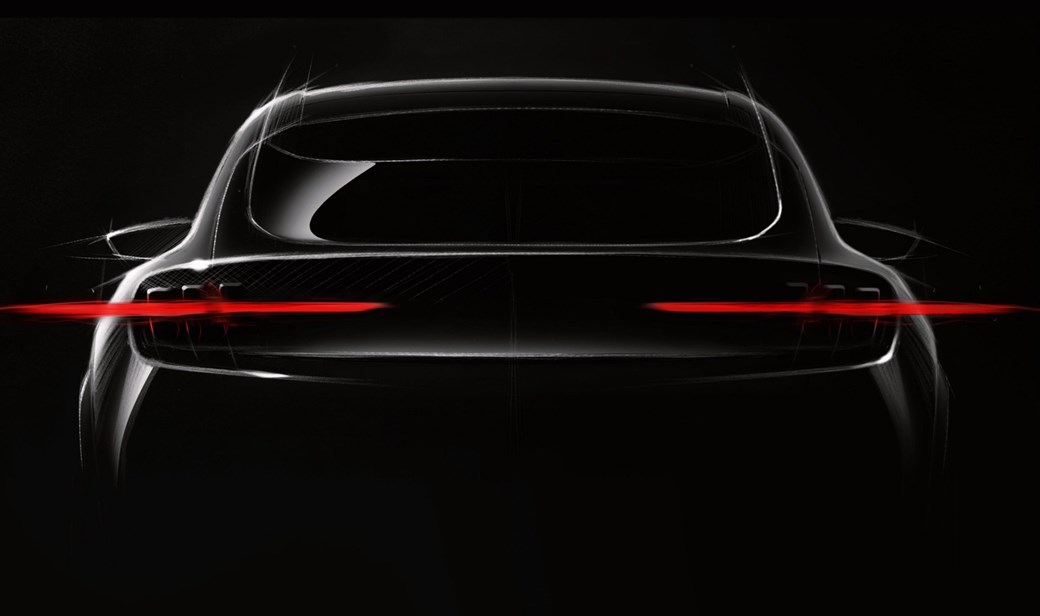 At the company's Go Further event in Amsterdam earlier this year, Steven Armstrong, CEO Ford of Europe revealed an all-new electrified Kuga SUV, but also gave us an update on Ford's Mach 1 EV.
Coming in 2020, Ford's 'electric Mustang' will actually be a crossover SUV, a bit like the BMW X4 – but it'll still share styling cues with the blue ovals' more traditional pony cars.
Take a look at the previously-released teaser image above; it looks like a Mustang, but not as we know it.
And why the Mustang name? "It's a car to capture the imagination and raise pulses. It's a Mustang-inspired all-electric SUV," Armstrong answers.
"If the Mustang is a car for petrolheads, this is a car for serious battery heads. Electrifying in every way, exciting to look at and thrilling to drive."
Interestingly, Armstrong also revealed the new car "configures itself around you, predicts your needs." That sounds a lot like code for packed full of connected service – primarily aimed at easing range worried – but we'll update this article when that's confirmed.
Sacrilege?
Either way, using the Mustang name – one of Ford's most iconic and traditionally V8-powered cars - is no accident.
Instead of creating something quirky like we've seen with the Nissan Leaf - or something new like the Jaguar i-Pace - Ford is using one of its most popular, most distinctive silhouettes to try and gain both attention and goodwill for its new EV program.
If the various social media feeds around the world are anything to go by, that strategy is backfiring so far, but that could change when the Mach 1 EV is revealed. 
Ford Mach 1: the background
Ford has revealed it'll invest US$11 billion ($20 billion) into electric vehicle development.
A Medium post by Darren Palmer, the global product development director of Ford's aptly named 'Team Edison', explained the company will release 16 fully electric and 40 electrified vehicles through 2022.
We'll see the full car on its release at a Ford Performance event on November 18.
This article was jointly written with Car UK.