Live coverage of the Australian Grand Prix closure
1530hrs - if you're stuck for something to watch today, here's the press conference that was held outside the Albert Park venue yesterday morning, which included F1 boss Chase Carey and AGP chief Andrew Westacott.
Saturday 1300hrs 
So what the hell happened to the Australian Grand Prix?
Lots of people are asking the question this morning; why was the cancellation of the Australian Grand Prix so poorly handled? The clumsy way messages were issued, the fact that the impending crisis seemed such a surprise to all involved, and the mass miscommunication around the cancellation itself are all under scrutiny.
Minds far wiser than mine suggest that the whole sorry mess came about because of the lack of a singular figure to take the reins and make a captain's call.
Equipment had been in place in Australia for a month, sure, but the bulk of the paddock and its parts had only left Europe five days previous, and in plenty of time to see the impending carnage of the coronavirus on countries like Italy.
In fact, most teams had to spend big bucks to re-route team members and equipment down under to avoid traditional Middle East transit points, which would have meant instant quarantine once Australia was reached.
Once the first COVID-19 case was confirmed within McLaren on Thursday, though, the gig was up. Senior drivers - including Max Verstappen as it turns out - were halfway home by the time Friday morning dawned, while Mercedes had written (a pointedly old-fashioned device) to the FIA to say it was folding its tent and going home along with McLaren, no matter what the call.
And it was Zak Brown's captain call to take his team - well, all but around 15 of them who are remaining in Australia under quarantine - out of the event that should have been the trigger for Chase Carey and Ross Brawn to cancel the event late Thursday night, thereby giving fans and workers plenty of notice.
But as Thursday night morphed into Friday morning at the Crown and teams and officials reportedly argued the toss til 4.00am, the only noise coming from Albert Park at 9.00am were the sounds of denial and confusion, in the form of the Minardi two-seat ride cars streaking around the circuit. 
News services were running wild, with some declaring the race cancelled, even though the AGP sent texts to staff and punters to say that the gates were opening and the event was on.
Social media, too, was running hot, with airline manifests revealing the departure of Kimi Raikkonen and Sebastian Vettel on Thursday night.
Marshalls were in place around the track, while Supercar teams went through pre-qualifying procedures behind locked gates. Skeleton crews stood around F1 garages, while Renault didn't even show up at all.
8.45am came and went, and the irony of large crowds gathering in close proximity wasn't lost on anyone. Finally, the news came at about 10.20am that the F1 race, and the entire event, had been canned.
It will cost lots of people tens of millions of dollars in lost revenues, orders, wages and services, and it will not be the work of a moment to refund thousands of ticket holders. It's disappointed a lot of fans, and it's unnecessarily exposed more people to COVID-19 than needed to be.  
The F1 circus has done itself a huge disservice, and it's a damn shame. 2019 was - in most respects at least - a breakthrough year for a sport that had too long ignored the rapidly changing world around it. It started to engage a younger audience via an actual focus on social media, while keeping more rusted-on fans in the loop.
This sorry episode, though, revives the ghost of a racing series that lived too far up its own importance for far too long, and where money is put before the wellbeing of its own people./Tim Robson
Saturday 1000hrs - The F1 season may not start until June, if the coronavirus pandemic affects Europe in the next couple of months.
F1 has formally announced the postponement of Bahrain, Vietnam and Shanghai, with the earliest possible start to the season now being May 3 in Zandvoort in The Netherlands. But even that isn't guaranteed.
And other racing series have also announced delayed starts to the 2020 season. Looks like I picked the wrong week to renew Kayo...
1845hrs - For our last post on this crazy Friday, info about refunds has been released.
From the AGP site. Don't expect a refund for your Thursday ticket, though...
If you purchased tickets online through the Formula 1 Australian Grand Prix's official ticketing agent, Ticketmaster, you will receive a refund back to the original credit card you used. 
If you purchased tickets from a Ticketmaster outlet using cash or EFTPOS, you will need to visit a Ticketmaster outlet when advised with the EFTPOS card used (if applicable) to refund the booking. Ticketmaster outlet staff will assist with your refund.
If you purchased tickets through a travel agent or on-seller, please contact them directly to process your refund.
If you have purchased Hospitality tickets through Ticketmaster, you will receive a refund back to the original credit card you used.
Please note, for patrons who purchased single-day tickets for Thursday, and/or any upgrade packages for Thursday, no refunds will be made, as the event was operational on Thursday 12 March 2020.
1800hrs - F1 has released a video explaining its decision behind cancelling the AGP today.
1600hrs - One-time F1 driver and Mercedes-Benz ambassador David Coulthard says the F1 needs to be transparent with its angry fans when explaining the reasons behind today's decision to cancel the event.
1530hrs - we've pulled together a gallery of shots from this morning's amazing vents at Albert Park.
1400hrs - Supercars has released a statement, suggesting that it can reschedule this weekend's cancelled event.
"Supercars will continue to adhere to government health advice and act to ensure the health and safety of our fans and our people remains our primary focus," read the statement.
"Given the cancellation of this weekend's event, we will look to reschedule another event later in the year."
The Supercars series dropped Phillip Island and Queensland Raceway from this year's calendar, making way for the return of a night race at Sydney Motorsport Park. Supercars is confident it can make up the difference by returning the series to one of these two venues.
"We are fortunate that this year's calendar enables us to do so," continues the statement.
"Supercars will continue to closely monitor the situation in line with guidance provided by government agencies."
Sucks that we can't put a show on this weekend, I feel for everyone who bought a ticket and wanted to watch the event, but safety of the teams and fans comes first! Everyone stay safe and look after each other ❤️#Mozzie25 #VASC

— Chaz Mostert (@chazmozzie) March 13, 2020
1300hrs - McLaren has released a statement that 14 more of its team members have been placed in isolation in the wake of one team member being diagnosed with COVID-19.
"Overnight, 14 members of the team, in addition to the one confirmed case, were placed in quarantine at the team hotel for 14 days, in accordance with local health authority directives," a statement from the team read. "These are individuals who had been in close contact with the team member who tested positive for coronavirus.
"These individuals are being supported by senior team personnel, who will stay behind with them during the quarantine period."
1230hrs - social media reactions are flowing in en masse...
I'm devastated I can't compete at my home GP here in Melbourne & get the season started. Ultimately though the right decision has been made & I think everyone can understand this is something we've never seen before. Sorry to all fans who came out for the support. Much love 💙

— Daniel Ricciardo (@danielricciardo) March 13, 2020
#AusGP pic.twitter.com/VKSFooJH7a

— Lewis Hamilton (@LewisHamilton) March 13, 2020
We'll have to wait a bit longer to get back in the car. I was really looking forward to get back behind the wheel but this is the best decision, the health of everyone is the priority. Stay safe everyone ❤️ pic.twitter.com/vKvo5lCtxG

— Charles Leclerc (@Charles_Leclerc) March 12, 2020
1200hrs - Supercars says it will look at adding back the championship round it's missed at Albert Park. Both Phillip Island and Queensland Raceway have been dropped for the 2020 season, but insiders scoff at the notion of another round being added for 2020. "We've torn up so much money coming here for nothing," said one. "Will Queensland teams want to travel to Melbourne for another round or vice versa? Don't think so."
"What a disappointment it is. We were all really excited to race at the Australian Grand Prix but respect for the Australian Grand Prix Corporation for following the advice of the FIA and the government's health authorities," said Charlie Schwerkolt, owner of Team 18.
1020hrs - that's it. The Australian Grand Prix for 2020 has been officially cancelled.
However, there are still thousands of people at the venue, and it appears that the support categories including Supercars, TCR cars and F5000 are cancelled as well.
Organisers have assured fans that full refunds will be offered.
OPINION - Well, what an absolute farce this has turned out to be. Thousands of people have flocked to Albert Park today in good faith after repeated assurances from the event organisers that the show would go on.
However, it was clear as day that the event should have been cancelled a week ago, and that the F1 community has done nothing but assist the spread of the COVID-19 virus in Melbourne.
Drivers were disgusted and angry at both the FIA and F1, while reports are emerging that the FIA, the ultimate ruler of world motorsport, is singularly unprepared for the tsunami of chaos about to be unleashed as the world reels from the lightning-fast spread of the virus that has caused the cancellation of hundreds of events involving hundreds of thousands of people.
The people who will suffer most for AGP's dithering this week will be the thousands of casual workers who filled bay marines, served drinks, worked at concession stands, scanned tickets and guided patrons to public transport, who will all lose a solid week's earnings while the sport's elite jet out of the country in business class plane seats.
We won't even have a racing event at the Albert Park precinct at all, with Supercars, TCR and the other support categories all cancelled./Tim Robson
Statement from AGP
Following the confirmation that a member of the McLaren Racing Team has tested positive for COVID-19 and the team's decision to withdraw from the Australian Grand Prix, the FIA and Formula 1 convened a meeting of the other nine team principals on Thursday evening. Those discussions concluded with a majority view of the teams that the race should not go ahead. The FIA and Formula 1, with the full support of the Australian Grand Prix Corporation (AGPC) have therefore taken the decision that all Formula 1 activity for the Australian Grand Prix is cancelled.
We appreciate this is very disappointing news for the thousands of fans due to attend the race and all ticket holders will receive a full refund and a further announcement will be communicated in due course.
All parties took into consideration the huge efforts of the AGPC, Motorsport Australia, staff and volunteers to stage the opening round of the 2020 FIA Formula One World Championship in Melbourne, however concluded that the safety of all members of the Formula 1 family and the wider community, as well as the fairness of the competition take priority.
1010hrs - could this be the first confirmation that the race is over?
@ausgrandprix officially cancelled. #F1 #AusGP pic.twitter.com/MPpTrBnUhg

— Martyn Massop (@MartynMassop) March 12, 2020
0950hrs - An image has emerged of a boarding manifest for an Emirates flight departing Melbourne this morning with Sebastien Vettel's name on it. Requests by WhichCar to confirm whether Kimi Raikkonen is still in Australia have also gone unanswered.
This is the photo circulating that purports to be a passenger list for Emirates flight EK409 which left Melbourne THIS MORNING at 6am - showing F1 Drivers Sebastian Vettel and Kimi Raikkonen (in 1A and 3A). If true, there's two drivers who won't be racing at @ausgrandprix pic.twitter.com/5AdU9YccfI

— Trevor Long (@trevorlong) March 12, 2020
0920hrs - Reports are emerging that crowds will be banned from the AGP this weekend. "At the very least there will be no fans at the Grand Prix this weekend," said Premier Dan Andrews at a press conference in Sydney.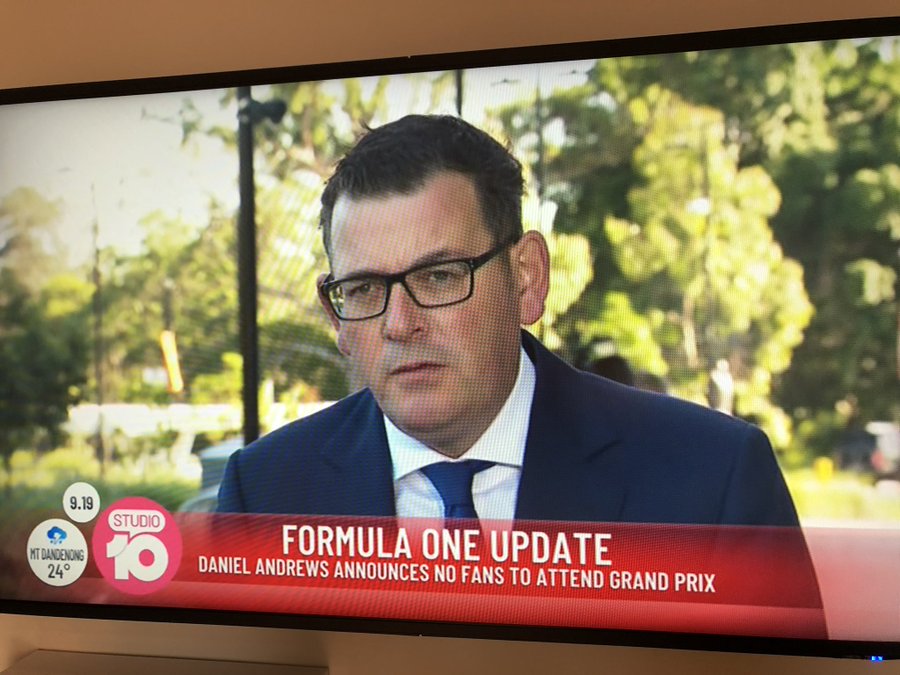 0830hrs - Despite widespread reports, the Australian Grand Prix appears to be going ahead as usual. Racegoers, officials and media have received texts saying that "the event is continuing and the gates will open as normal."
It comes as pressure mounts on F1 to cancel the race, with McLaren withdrawing from the weekend after one of its team members tested positive to COVID-19.
Australian Grand Prix 2020: the lead-up
It's being suggested that F1 teams may choose to simply sit in their garages when the first practice session starts at 12pm, while reports are emerging that some drivers including Kimi Raikkonen and Sebastian Vettel have actually left the country.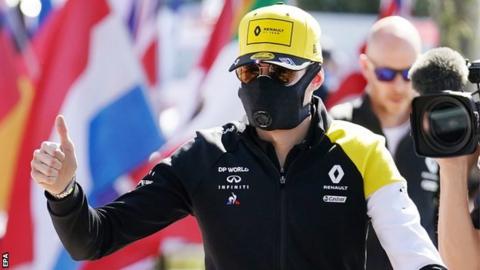 Esteban Ocon wearing a mask as he arrives on Thursday
McLaren boss Zak Brown (left)
Defending F1 world champion Lewis Hamilton launched an extraordinary attack on the sport, accusing the organisers and the series itself of focusing on financial gains over the safety of drivers and fans.
"Cash is king," said the Mercedes driver when asked why he thought the race was still on.
"For me, it's shocking that we're all sitting in this room. So many fans here already today and it seems like the rest of the world is reacting - probably a little bit late."
Hamilton showed concern for older members of the F1 fraternity, such as Sir Jackie Stewart, as well as slamming the need to travel to the event.
"I just urge everyone to be as careful as you can be - touching doors; I hope everyone has hand sanitiser," he said.
"I saw all the fans going on like it was a normal day, but I don't think it is. I really hope we go through the weekend and don't see any fatalities."
Meanwhile, McLaren released a statement yesterday announcing that it, and drivers Carlos Sainz and Lando Norris, would not take part in the event.
The statement read: "McLaren Racing has confirmed this evening in Melbourne that it has withdrawn from the 2020 Formula 1 Australian Grand Prix, following the positive test of a team member for the coronavirus. The team member was tested and self-isolated as soon as they started to show symptoms and will now be treated by local healthcare authorities."
Stay tuned to this page for rolling updates.