IT'S that time of year again when the world's carmakers do their best to pull the wool over our eyes with a barrage of April fools gags that range from the downright ridiculous to the almost believable. Here are our favourites from over the years.
Bowden's Own Far Cough spray
Proudly made right here in Australia, Far Cough anti-bacterial spray is the perfect antidote for 2020 - and it's almost the perfect April Fool's gag.
In fact, it may be too perfect - the maker of Australia's best car care gear - and owners of a proper Ford Falcon GTHO Phase IV - is actually producing a few crates for sale! Mark us down for two.
Four-seat Mazda MX-5
In 2014, Mazda's stretch sportster fooled almost no one, and it only ever appeared in a single tweet on Mazda Japan's feed. Does a four-seat MX-5 lurk in a warehouse somewhere?
Holden Commodore Hatch Hutch
Holden went back to the future with the following announcement for a Hatch Hutch for the 2019 Commodore on its Facebook page:
The gag has some credibility as it harks back to the old Torona Hatch Hutch from the 1970s, which turned your 'Rana hatchback into a panel van.
Sadly, it would be the last April Fools Day gag from Fishermens Bend.
Read next: Top five best car April fool stunts
Honda 'Pastport interior redesign
Honda also went back in time for April Fools Day, presenting a '90s-themed interior trim package for its 2019 Passport large SUV, dubbed 'Pastport'.
Coupling the "authentic look of the new Passport on the outside, yet simplified with everything you love about the '90s on the inside."
The Pastport looks like a riot for Millenials, but sadly Honda notes that the slap bracelets aren't included. Take a look at the video yourself.
Toyota HiAce Convertible
Read next: 11 great April Fools car company pranks
2019's tilt at April Fools mirth by Toyota Australia was the HiAce Convertible, a chop-topped commercial with what must be the world's largest z-fold fabric roof.
You'd presume such a machine would be targeted with laser-like focus on the sizable market for safari park vehicles (that's sarcasm), but Toyota says its topless van isn't just intended to be offered as a 12-seat microbus, but can also be enjoyed as a delivery-spec two-seater or worksite-friendly five-seat crew van as well.
However, its piece de resistance is the innovative (and optional) PieAce feature – a roll-out canteen-grade pie warmer that slides out of the HiAce Convertible's bum. Smoko will never be the same.
VW Caddy Maxi-Mini
It's like a 2015 Volkswagen Caddy, only fun-sized. "We see the Caddy Maxi Mini as our equivalent of the chocolate bars at the supermarket checkout. We hope that when customers come and buy one of our multi-award-winning full-size vans, they'll add a Caddy Maxi Mini as a little treat," chortled those crazy Chermans.
BMW i-Setta

Adding to a burgeoning range of electric vehicles, BMW Japan took the liberty of revealing the BMW i-Setta.
Not much information was released along with the images, but BMW Japan said the electric-powered mini melded equal parts "tradition and innovation". 
Honda emoji horn buttons
Is this one really such a bad idea? Honda says the novel wheel design is an "integrated vehicle-to-vehicle and vehicle-to-human communications system for the modern driver." No poop emoji, no care.
Audi b-tron
Audi used April 1 to announce the German carmaker is extending its efforts to develop alternative powertrains beyond the electric e-tron range, and g-tron and h-tron gas and hydrogen concepts. Introducing the b-tron concept that's "creating buzz with a natural, ancient fuel: honey". 
Audi's announcement quotes Imker Honig, of Ingolstadt's legendary Komplett Geschminkt skunkworks, who said "The idea, which came to me over breakfast, is just one of several new technologies that Audi will debut over the next 12 months.
"Early prototypes tended to attract scores of bees, typically around the hexagonal fuel cap. One tester was swarmed by a hive that had settled in the glove compartment. I don't think he'll be doing that again, ha!"
"That said, everyone loves the on-board toaster."
The gag seems is obviously aimed at non-German speakers, with Komplett Geschminkt translating to 'completely made up" while Imker Honig's name just happens to mean 'beekeeper honey'.
Even so, it's a sweet idea that deserves bonus points for the great colour scheme.
Toyota Yaris Adventure
We almost took this one seriously... after all, Aussies loved the tiny Subaru Brumby back in the day.
Sadly, though - and despite the presence of a three-door Yaris - the Adventure lives only on April 1. 
Lexus Enpaw
It's a dog of a story...
"Lexus has extended its class-leading Encore ownership programme to accommodate a special cohort of passengers doggedly ignored by rival brands," reads its release.

"Enpaw, a new chauffeur and accommodation service available on all Lexus models, allows four-legged canine friends to indulge in the finest four-wheel luxury by transferring them to a luxury boarding kennel when their owners take a holiday.
"With owners experiencing the unrivalled benefits of Encore, allowing them to take advantage of exclusive restaurant and accommodation offers, dogs will finally be let off the leash to enjoy the same level of Lexus-luxury lifestyle courtesy of Enpaw."
MORE Keeping pets safe in a car - for real
Knowing how much a dog kennel service costs, this actually isn't the most far-fetched story out there.

"Whether purebred, or a hybrid breed, dogs of any pedigree are warmly welcomed into our family courtesy of our new ownership service."


Mini John Cooker Works
BMW and Mini have built themselves quite a reputation as a pair of pranksters on April 1.
The British brand presented a John Cooker Works version of its convertible Mini – yes you read that correctly – which allows caterers to convert the passenger compartment into a timber-topped work area for the preparation of food.
| Mini Cooper S to gain JCW tuning options
In a series of official images, an expert chef is preparing sushi, which is not the only fishy thing about the John Cooker Works. It doesn't actually appear to have an oven, either.
BMW dDrive
BMW, on the other hand, announced its dDrive dog basket which uses the company's TwinPower Turbo technology to cosset your pooch with air, creating the same sensation of hanging out of the car window without having to go anywhere at all.
The company has not specified if the canine creation also incorporates technology to stop your dog jumping out if it sees a cat.
Lotus pet helmet
Speaking of which, Lotus stuck with the pet theme and offered a skid lid for your cat, allowing owners to take Tiddles to the track. But the feline helmets were only available until midday on April 1. Suspicious?
Feathered McLaren 570


McLaren wasn't letting Lotus be the sole British sports car representative and weighed in with a special feathered finish courtesy of its McLaren Special Operations branch. 10,000 carbon-fibre feathers adorn the 570, weighing no more than a coat of paint and actually benefiting aerodynamic drag, it says.
Top marks go to McLaren for creating something Andy Goldsworthy would endorse and a potentially marketable one-off.
Audi square cupholders


Our top car-themed April fool for 2017 has to be Audi's offering, which proposes a silly but potentially useful concept for a South Australian audience.
Audi fans will delight at the German car maker's decision to offer a special square drink holder in selected models sold in South Australia, where the favourite drink is Farmers Union flavoured milk – sold in square cartons and not round bottles.
Bonus marks awarded for the local angle and even the production of a short film to add credibility.
Honda H-Swipe dating app


Sorry Honda, at the opposite end of the spectrum, you lose points for trying to fool us with a stunt that Nissan pulled the previous year. According to the carmaker, the H-Swipe application uses a digital windscreen to display images of potential suitors as part of an in-car dating application.
The user can either accept or reject the candidates by selecting left or right with special s-wipers (d'ya see what they did there?) operated by steering wheel buttons, which sounds a little like Nissan's N-Connect application from last year, which notified users if a nearby car was occupied by a single person.
Of course, we may have been reeled in a little further if Honda currently offered any conventional head-up display technology in its cars.
Mercedes-AMG Sprinter63
While it may be a gag to celebrate April Fools day, we do wish the Mercedes-AMG Sprinter63 S van revealed yesterday on Mercedes-Benz USA's FaceBook page wasn't a mere prank.
Maybe that's because the credentials of this super Sprinter entail exactly what the badges on its doors suggest: a hulking AMG-built 4.0-litre twin-turbo V8 at its front, plus rear-drive, AMG re-tuned suspension, and a C63 S-matching front and rear diffuser.
However, unlike BMW's awesome April Fools project that involved a turn-key BMW M3 ute (below), the Sprinter63 S isn't real. Mercedes-Benz USA confirmed the photos as renders, saying: "It's exactly what you'd expect of our high-performance division if they were given the keys to a Sprinter van".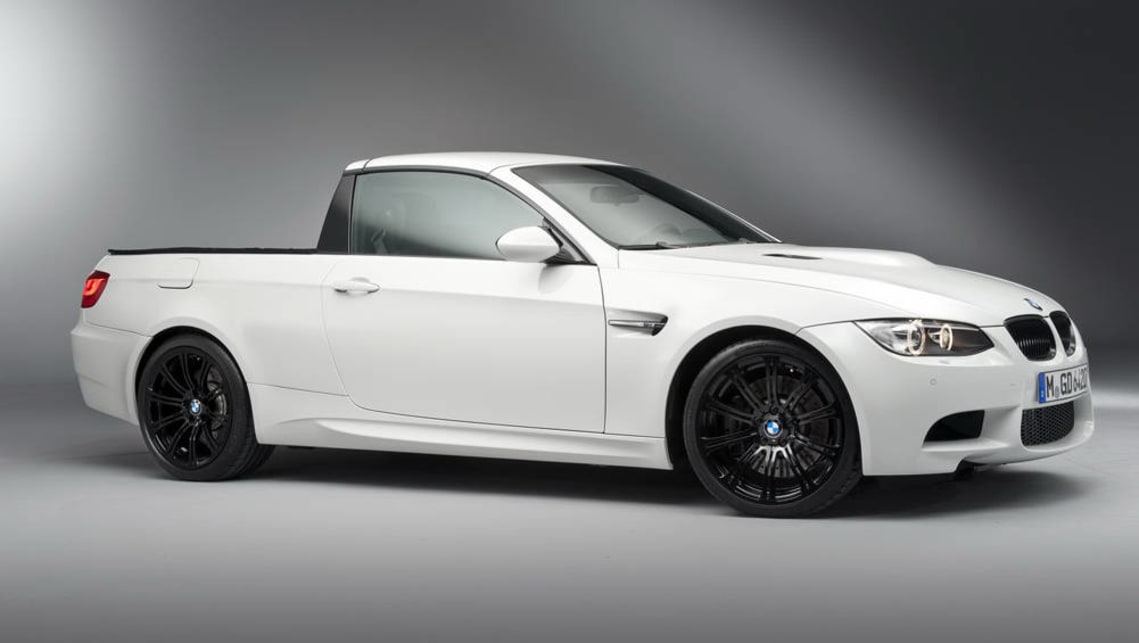 We are sad to read that, because – with 375kW under their right foot – your courier would never be late again.
BMW left-to-right hand drive
How amazing is this gag from BMW? In 1986, it pranked the world with the movable steering wheel, which ostensibly allowed Europeans to drive to the UK, open the glovebox and swap steering wheel sides.
We guess now that Brexit regs would rule this excellent gag inadmissible.