Confession – I absolutely love Apple CarPlay. Like, absolutely love it. It's not like I'm a massive Apple nerd, either – my trusty iPhone 6 S Plus predates Stonehenge, according to my 12-year-old.
My day job involves driving two, possibly three different cars a week, so having the ability to simply plug my phone in and have instant access to my music, maps, podcasts and messaging services is really important to me.
What's more, the tech is now available in cars as affordable as the Kia Picanto, and it's also made its way deeply into markets where smartphone connectivity hasn't been as big a priority, like utes and commercial vehicles.
MORE: How to add Android Auto to an older car

It also makes brands like Toyota and Nissan stand out even more because of its absence. And as for BMW charging for the privilege? Phhht. Get real, guys.
If you haven't got it, though, don't despair; there are ways and means to add Apple CarPlay to your car.
Replacing the head unit
Back in the day, it was all the rage to sub out a car's standard radio for a cassette deck or (gasp) a CD player. I even installed a Sony MiniDisc player in my car in the early '00s… but then I've never been that smart at following trends.
The art of head unit changing, though, has become more difficult, as manufacturers moved towards greater integration of multimedia systems into centre consoles, but there are still a lot of cars out there that use the simpler DIN style of installation, which allows a new head unit to simply slot into a pre-existing hole.
However, even if your car has a more integrated system, don't despair; modern installers have worked out ways to retrofit a system that can run Apple CarPlay and make it look factory.
MORE Google's next move: Is Apple CarPlay in trouble?
"It's the most common job we do these days," said Clinton Venaglia, who owns InCar Installations in the southern NSW city of Wollongong. "Some brands like Ford and Holden really headed down the integrated path a few years ago, but even so we can still install a system in most modern cars."
Toyota, for example, makes things pretty simple, while Mazda is a little more difficult.
More on Apple CarPlay
Integrating systems like reversing cameras into the new units isn't a problem either, according to Vengalia, who estimates the average cost of adding an Apple CarPlay system to a car is around $700.
A new Apple CarPlay head unit uses a touch screen that's built into the unit. It either remains in place permanently or folds away and retracts into the dash for greater security.
You then simply plug your phone in via an Apple Lightning cable, and you're set to go.
Prices for head units vary wildly, from around $400 at the entry-level to more than $2000 at the top rung.
MORE Big update for Apple CarPlay on the way
While there are plenty of people who would willingly give installation a go at home, we would heartily recommend that a professional installer does the work; it's all too easy to leave off a crucial earthing strap or not have the correct module to make your new head unit work with your car.
As well, not all head units are compatible with all cars; you might, for example, lose the ability to control your stereo from your steering wheel controls. It will cost a bit more, sure, but a reputable installer will also look after you if something goes wrong down the track. 
OEM retrofits
Some carmakers that have lagged behind Apple CarPlay integration are attacking the issue head-on by offering a retrofit kit to give owners the full Apple CarPlay experience.
Mazda, for example, is offering an Apple CarPlay upgrade kit for customers whose cars are equipped with its MZD Connect system for around $500.
The most recent update to the CX-9 was the first mainstream Mazda to get Apple CarPlay as standard; the BT-50 ute scored it slightly earlier by dint of its connection with the Ford Ranger.
"It will be available for all customers with an MZD Connect system that first went on sale with Mazda 3 in early 2014," said a Mazda spokesperson last year.
Hyundai, too, has offered software upgrades for owners of their cars in order for them to access both Apple CarPlay and Android Auto. However, it hasn't been the smoothest of rollouts.
Hyundai i30s from 2015 were largely able to accept the upgrade, but conversely, owners of top-spec SUVs like the Santa Fe and Tuscon Highlander have been told that the in-built GPS system aboard their cars prevents the installation of the system. 
There's always Bluetooth…
If your car is simply too old to be retrofitted with Apple CarPlay, then Bluetooth connectivity will still allow you to stream music and podcasts through the car speakers. As well, map apps like Waze and Google Maps will send audible instructions over the sound system if you're listening to streamed music.
And if that fails, consider a good old cable connection! A simple 3.5mm cable connection between your phone's headphone jack and your head unit will give you sound.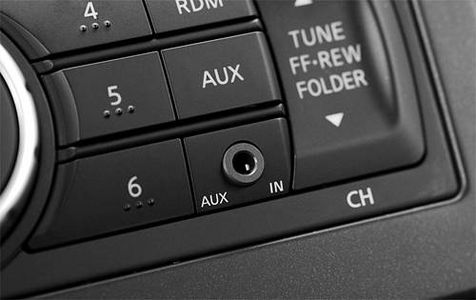 However, more and more phones are being produced without the 3.5mm headphone jack, which means it's Bluetooth, Apple CarPlay or nothing at all.