Welcome to WhichCar's rolling coverage of the most unusual subject we've ever dealt with, the onset of the coronavirus COVID-19 pandemic.
It's having a huge effect on the automotive, too, so we're keeping you as up to date as we can in the light of the lightning-fast developments that are rolling out daily.
Our key social pages, including Wheels and WhichCar's Facebook pages, will also keep you up to date.
Thursday 7 May - Thank you to everyone who has tuned into this updated-daily blog.
We've decided to stop daily updates on this one while we focus on our other rolling blogs, including our Travel in Australia page and our Best Car Deals page.
Monday 4 May
1300 - Porsche has announced it will resume its manufacturing across its German operations, where the Porsche 918 and 911 production lines are located.
Read the full Motor magazine story HERE
In the meantime, check out the action from Porsche's first round of its Esports Supercup e-racing.
Saturday 2 May
1700 - Motorsport is in dire straights, with more and more series pushing back start dates and having to put on events behind locked doors. All series, that is, except for one.
You can read which series that is in this piece from Tim Robson.
1200 - An absolutely amazing stat from India overnight... the country of almost 1.4 billion people, who between them bought almost 4.4 million passenger and commercial cars in 2019, recorded not a single new car sale in India in April. None. Not a single, solitary unit.
Thanks to a strict lockdown on both manufacturing and retail sales, the Indian industry - which has 42 brands - is in a state of complete paralysis, and is burning through a reported $500 million a day as it awaits restrictions to lift.
By way of comparison, the country saw around 320,000 four-wheeled vehicle sales in April 2019.
Early indications of huge losses for Australian importers, meanwhile, might prove to be unfounded, with feared declines of up to 70 per cent not materialising in early end-of-month data. We'll have more on that subject during the week.
Friday 1 May
1500 - Lockdown trouble for a NASCAR racer during the week, as his daughter hits the wrong button on the remote, dumping him out of the lead of a race. Read more HERE
1430 - The US industry is sputtering back into life, with Mercedes-Benz turning the lights on again this week, and BMW set to follow suit next week.
However, Toyota has delayed its plans by a week, while VW has postponed opening its US plants indefinitely, as the death toll in the US tops 60,000 in just three months.
1330 - Not sure this is a great idea... though your author has an 18yo who failed his Ls by a single mark (not looking through an intersection) the day before retesting was cancelled by the state body, and would be perfectly okay to have him on the road.
Georgia teens will no longer need to pass a formal driving test to get a driver's license due to the pandemic.

They will only need parents approval: https://t.co/7FvWfK3GpF pic.twitter.com/WX6OeMuPlP

— Complex (@Complex) April 29, 2020
1000 - Elon is at it again...
FREE AMERICA NOW

— Elon Musk (@elonmusk) April 29, 2020
The eccentric founder of Tesla has been a vocal critic of the coronavirus pandemic and fought hard against the closure of the company's San Francisco plant, and he's keen to see the industry fire up again.
He also blew up at reporters about California's stay-in-place laws.
"Frankly, I would call it forcibly imprisoning people in their homes against all their constitutional rights, in my opinion," he said on an earnings call last night. "Breaking peoples' freedoms in ways that are horrible and wrong and not why people came to America or built this country. What the f$$k?"
His provocative outburst comes on the back of reports of a third-straight profit period for the EV maker. Read the full story HERE.
Wednesday 29 April
0800 - It might not be exactly the news some Ford fans were hoping for, but the Blue Oval has restarted a small manufacturing operation in Australia, not to resurrect the Falcon or Territory, but in support of health professionals and the fight against COVID-19.
As the world struggles to meet the demand for essential personal protective equipment, Ford has allocated resources at its Broadmeadows facility in Melbourne's north to manufacture up to 100,000 face shields. Read the full story HERE
Tuesday 28 April
1200 - Triple Eight Race Engineering has taken a vital second step towards the production of a new style of easy-to-use ventilator with genuine racing car tech onboard.
Monday 27 April
2200 - Factories across Europe are slowly returning to life, with measures in place to protect its workforce.
How slowly? Toyota's Yaris plant in Valenciennes, France, can build 1000 cars a day - but output of the plant currently stands at 50 a day.
Volkswagen, meanwhile, has restarted production of its ID3 electric hatch in Zwickau, Germany, while Hyundai has been back of the thick of things since April 6, when it fired up its Sportage plant in Slovakia, followed a week later by its i30 facility in the Czech Republic.
1700 - F1 has announced that it will start its season on July 5 in Austria, and will attempt to run a season of at least 15 races. It's expected that the first couple of events will be run in front of empty grandstands.
"We're targeting a start to racing in Europe through July, August and beginning of September, with the first race taking place in Austria on 3-5 July weekend," said F1 boss Chase Carey in a statement.
"September, October and November, would see us race in Eurasia, Asia and the Americas, finishing the season in the Gulf in December with Bahrain before the traditional finale in Abu Dhabi, having completed between 15-18 races."
Local motorsport sources suggest that the Australian Grand Prix won't return in 2020, but could potentially stage a double-header 2020 season closer/2021 season opener in March next year.
0900 - Ferrari has consulted virologists and experts to provide a safe working environment for the resumption of production in Covid-19-ravaged Italy.
The reopening of the Maranello factory and Modena offices will include a voluntary screening of Ferrari employees with blood tests, while each worker is offered the opportunity to use an app to receive medical support in monitoring the symptoms of the virus.
The app works in a similar way to the one being rolled out here; f a member of the population under analysis tests positive for Covid-19, their contacts can be tracked via the app.
Any employee who tests positive for Covid-19 will receive special free insurance cover as well as accommodation suitable for self-isolation, with medical and nursing support at home, along with the support of medical equipment (such as medicines, oximeter and, in case of emergency, oxygen). 
Sunday 26 April
Movement within state and territory governments around loosening some of the restrictions around meeting and movement, with the key change being in Queensland.
From next weekend, people will be able to take drives up to 50km from home, while picnics and shopping trips are back on the agenda.
However, NSW and Victoria are sticking by a mid-May timeline, with leaders suggesting that the regulations in their respective states aren't as strict. Read our updated travel blog HERE
Friday 24 April
1800 - news late today via Forbes that Formula 1 has managed to raise US$1.4 billion ($2 billion) in operating capital by selling a large stake of its event promotion business Live Nation to digital radio giant SiriusXM.
The fundraising will not only help F1 keep circling bankers at bay, but it will allow it to absorb a potential loss of event fees from cancelled and postponed 2020 races of close to a billion dollars.
The report also suggests that the sport has forwarded prizemoney to teams, even though it's under no obligation to do so. This will help struggling outfits like Williams, who recently mortgaged the farm to the father of one of its drivers.
'F1 Gets $1.4 Billion Windfall To Keep Teams And Tracks Ticking Over' via @forbes by @FormulaMoney https://t.co/FeHyhwpYU2

— Formula Money (@FormulaMoney) April 24, 2020
1200 - Wondering if you have to pay rego while you're under lockdown? Could you get a break on your insurance, perhaps? And what about your poor car - is it okay out there in the street?
A lot has changed in a few short weeks, so we've tried to round up the answers to the questions you might have in this advice piece.
Thursday 23 April
0800 - A World Health Organisation vehicle has come under fire in Myanmar (formerly Burma), with the driver killed and a government official injured in the attack.
It's been reported that the car was carrying coronavirus samples at the time of the attack.
"Unfortunately, we are seeing cases of attacks on doctors, on nurses, security personnel and all those who are assisting in testing, tracing contacts and enforcing physical distancing measures to stop COVID19," said Dr Poonam Khetrapal Singh, the regional director of WHO in South-East Asia. 
"As they deliver essential lifesaving services, our health workforce deserves gratitude, respect, appreciation and support for their selfless services." 
Wednesday 22 April
1500 - Hyundai has announced that it'll offer Aussie health care workers a fifty per cent discount on scheduled servicing until the end of May.
The deal is available to all health care workers who present a badge or other form of ID at their dealership when booking a service, and will include all parts and fluids listed in the service schedule.
"This program is designed to offer something back to the many workers across the country that are at the front line of the battle against the Coronavirus," said the company in a statement.
Tuesday 21 April
1200 - Engineering experts are suggesting that the now-defunct car manufacturing industry has a role to play in 'crisis engineering', as the wider car industry pivots to the manufacture of specialist medical supplies. Read David Bonnici's story HERE
0930 - Oil prices have hit unprecedented levels, with buyers paying sellers to take excess stocks of crude oil. With demand plummeting and storage sites close to full, a barrel of oil fell to figures near -$50 AUD a barrel. Read our story HERE
It lines up nicely with Tony O'Kane's piece yesterday about the shifting battle between combustion-engined cars and their EV counterparts, and how the balance has shifted in favour of ICE again.
0900 - With Virgin Australia appointing administrators today, where does this leave the airline's title sponsorship of the Supercars series? Given some numbers that have surfaced around the sponsorship deal itself - which expires at the end of 2020 - it won't impact things too much.
Its role as the title sponsor of the series is reported to be worth just $1.5m a year, with the balance of the deal provided in contra travel to series organisers and teams.
Monday 20 April
0900 - An unexpected wrinkle for US carmakers has come in the form of a tornado that ripped through a Borg-Warner factory in the south of the country last week, destroying the building and killing a security guard.
Just in: Our staff photographer was able to get a photo of the Borg Warner plant in Seneca. pic.twitter.com/nf6y49BtQG

— Riley Morningstar (@RBMorningstar) April 13, 2020
The plant in South Carolina produces transfer cases for AWD and 4x4 vehicles for car companies including Ford and Toyota. Salvage teams are on-site inspecting the damage to the building, which was shuttered due to the coronavirus pandemic.
It puts added pressure on disrupted supply chains which are key to the operation of a car factory. Parts are supplied to factories on a 'just-in-time' basis, but with the closure of many smaller suppliers and transport companies, these chains are in danger of being irreparably broken in the short to medium term.
Sunday 19 April 
1300 - It seems while banks and other financial institutions are helping clients by pausing payments, most car insurers are not interested in doing the same.
A quick straw poll of the country's major insurers, including NRMA, Shannons/GIO and Allianz shows that none offer any way to pause car insurance policies, despite the huge loss of employment across Australia, while a single insurer - Youi - is offering a 15 per cent reduction to current clients.
0900 - Volvo will start building cars again from Monday. Its Belgian plant in Ghent (below) has been offline since 13 March, costing the company millions of dollars and about 23,000 lost production slots for XC40s and V60s, while its Skovde plant in Sweden will also resume production of XC90s and XC60s.
It's the first car company to fire up its plants, but its position of 'produce or the economy is damned' is an interesting one. Sweden is one of the few countries in the world that has not resorted to social distancing, and its death toll of 1511 looks as if it'll climb further yet.
A spokesperson says that Volvo will build only cars that have been ordered for markets like China, which is starting to show signs that consumers are spending again.
Saturday 18 April
1200 - If the kids are driving you a bit mad, give them a pile of colouring-in to do! We've pulled together a bunch of cool pics from across the car-maker spectrum to print out and distribute to your little monsters.
0700 - Will the huge upheaval of the current coronavirus change the way that we look at our cars? Will we use them more or less? On one side, the long-awaited but oft-delayed notion of telecommuting has been thrust upon us, rendering our highways and byways underutilised and virtually deserted. 
And now that the issues that seemed so insurmountable to working from home just a few years ago seem to have all but disappeared, what does that mean for the future of commuting?
Equally, for those whose roles who don't allow them to work from home... how ready will they be to ride on public transport again? Will they look at the car as a way to secure themselves in an uncertain future?
And what of the experience of buying and owning a car? The coronavirus shutdown means that businesses need to quickly pivot to new models in order to survive, and car companies are no different - and the ones who work out the best way to serve our new needs will be the ones who will recover the quickest from this once-in-a-lifetime event./Tim Robson
Friday 17 April
1700 - Stories are emerging of delays to automotive releases as the COVID-19 industry slowdown rolls on. Jeep's long-awaited new Grand Cherokee will fall behind by a few months, for example, while Volvo execs have suggested that the need to switch suppliers will delay production briefly.
Volkswagen has also suggested in the German media that its operating profit for the first quarter is likely to fall by a staggering 81 per cent.
1200 - Looks like the animals are getting wiser...
Kruger visitors that tourists do not normally see. #SALockdown This lion pride are usually resident on Kempiana Contractual Park, an area Kruger tourists do not see. This afternoon they were lying on the tar road just outside of Orpen Rest Camp.
📸Section Ranger Richard Sowry pic.twitter.com/jFUBAWvmsA

— Kruger National Park (@SANParksKNP) April 15, 2020
This shows what it's all about. They're scared of me (a human) in this. They don't like people. They usually only come down from the Great Orme when it's windy, and only the back streets at the top of Mostyn Street. Now lockdown means it's empty, they're going further than ever. pic.twitter.com/roZpNm61Qh

— Andrew Stuart (@AndrewStuart) March 30, 2020
Thursday 16 April
1300 - I reckon the Scottish coppers are onto something here...
1220 - As US companies start to look at ways to fire up production lines, Ford is experimenting with bracelets that are designed to buzz if the wearers cross social distancing thresholds.
The bracelets are being trialled by 50 workers at Ford's plant in Plymouth, Michigan, and are designed to buzz if workers cross into the six-foot (2m) zone that the US government is recommending.
Taking thermal-imaging temperature readings of all workers entering any Ford facilities are also being discussed, while face masks and in some cases, face shields - made by Ford itself -will be issued
0900 - A group of teenagers in Afghanistan have come up with a working ventilator prototype for COVID-19 patients which costs less than US$300 ($500) to make, and uses parts from a Toyota Corolla to make.
The Afghan Dreamers girl's robotic team is financed by a local tech entrepreneur, who tasked them to come up with a viable prototype to help the war-ravaged country combat the influx of COVID-19 cases. The country has just two hospitals designated to work with coronavirus cases, and they have 12 ventilators between them.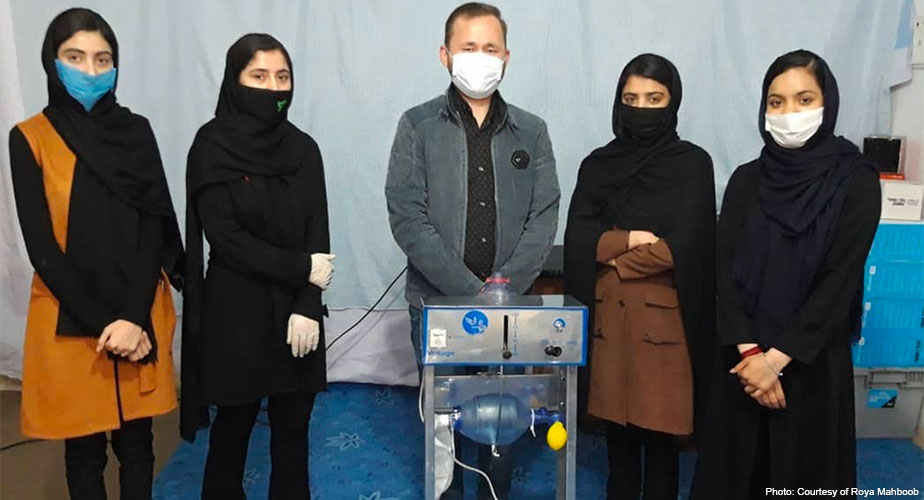 "We discussed our design with a professor from MIT, and sent it, based on the MIT prototype, using Toyota Corolla parts. He (the professor) was so surprised and wrote back to us saying that it was a clever design but would need to see if the system worked," Roya Mahboob, the group's founder (above middle), explains.
"What we are hoping, is that with the help of MIT we will be able to improve our model and make it ready for actual use by the end of May or June."
Australian racing teams have been designing similar devices and making their designs open-source.
Wednesday 15 April
0800 - European-based car companies are starting to slowly turn some lights back on, as reports emerge that the region will see a potential downturn in sales this year of three million cars.
Audi, for example, has fired up its engine plant in Gyoer, Hungary, though only 100 workers on a single shift have been rostered on to work in one of the world's biggest engine plants.
Hyundai, meanwhile, is reportedly looking to fire up its Czech Republic plant next week.
Interestingly, Volkswagen kept at least 100 people who were integral to keeping supply chains open on its books, which may pay dividends as it looks to bring its big plants back on stream.
Tuesday 14 April
1500 - Distressing stories of a seemingly zero-tolerance policy around being out of home without a valid reason are emerging, with a man describing to The Guardian how he, after losing his job, spending two week's straight filing job applications and worrying about how to pay his mortgage, was fined $1000 in NSW for stopping in his car to drink a coffee and smoke a cigarette in an unpopulated area.
"His exact words to me were 'if you keep this up, it's a great way to become poor'," said the man. Social distancing is working to defeat the spread of the virus - but is it coming at the expense of humanity?
1000 - Data sets around our collective time in a travel-restricted state of being are starting to emerge, and despite a lack of traffic on the roads, it appears we are still finding new and unique ways to die on the roads.
David Bonnici examined the stats and filed this great analysis.
Monday 13 April
1500 - An industry expert in the US has suggested that the car industry will need to cooperate in order to come back online, after the unprecedented site shutdowns across the US and Europe.
With more than 50 major plants in downtime mode at present, sourcing raw materials, the financial status of smaller suppliers and even the state of the transport industry will all play a part in how the industry fires back up.
As well, simple things - like how workers clock on for work under new cleanliness rules, or whether a parts supplier has gone out of business without the backup of a car company contract - could prove to be stumbling blocks to an orderly comeback to production.
0900 – So we move into another week of our new normal, but I reckon we are doing it under clearer, bluer skies!
We're working on a story that will come out later in the month around how much less pollution has been produced while we've all been grounded – but some early numbers make for interesting reading.
For example, the Australia Institute reckons that 10 million tonnes of CO2 will be kept from the atmosphere this year just in the reduction of jet travel alone.
Read the rest of my brain wanderings around what our car-driving future might look like HERE./Tim Robson
Sunday 12 April
1630 - hopefully WhicCar TV was part of your Sunday afternoon iso viewing. If not, catch up on our Behind The Scenes piece here. You can also watch full eps on Ten's TenPlay app, or click through here to check out our TV content page.
0900 - Hard to believe, but another 19 people have been ticketed after 40 cars broke into a reserve near Newcastle in NSW for an illicit burnout meet. The cops weren't best pleased - read our updated story here. 
Saturday 11 April
1900 - A light-hearted spot from Jeep starring Bill Murray has surfaced in the US, urging people to stay home.
1730 - Reports from the Queensland border this afternoon suggest that more than 500 motorists have been turned back from the NSW/Queensland border, after tougher new travel restrictions came into place at midnight.
Every person in each car now must have a permit to enter Queensland, or they will find themselves denied entry.
Aussies are responding to the unprecedented Easter holiday conditions, though, by camping out in their own backyards. A call-out on social media has thousands of families pitching a tent and cooking a snag in the privacy of their own homes.
Pic - Adam Laws
1200 - Dallara, which builds racing car chassis for various international series including IndyCar, is joining a host of other private businesses in the fight against COVID-19.
Inside its factory, Dallara staff are using cutting tables normally reserved to cut carbon fibre cloth for race cars to prepare materials that will be used for face masks and gowns.
The materials are first delivered to the factory from an outside vendor. Then, the Dallara staff cuts them for masks and gowns as needed.
"We need to be very active in everything we can to help, first of all, the medical cause and doctors, nurses and everyone involved, to fight this battle," said Stefano dePonti, the ceo and general manager of Dallara USA.
"As soon as this virus is defeated, the better for everybody. So, if we cannot properly build race car parts, let's do something that can help the community and move it forward with the hope that this will help many people that, right now, are suffering."
Good Friday 10 April
1200 - Easter travel restrictions in Australia (updated)
There are no significant changes to the existing restrictions that apply to the Easter long weekend, but the message is the same - it's highly recommended that we all stay home.
There are some subtleties  - for example, the NSW Police Commissioner Mick Fuller has said that visiting other people for "caring reasons" is permitted, within reason.
"We have to look after each other, but don't take the whole family with you," he told media. "Don't take your grandparents."
Sydney Harbour Bridge
Tasmanian police have announced that they, however, will be deploying aerial patrols to ensure compliance with travel restrictions, while Western Australian travel will be restricted to the nine zones implemented last week and the borders locked.
And while WA residents may visit partners that don't live with them, social distancing is expected to be observed. 
In ACT and Queensland, up to two people are allowed to visit a household, but again, social distancing between all is a requirement.
Police around the country have been actively enforcing social distancing and travel bans, with Queensland police fining a large number of people who attended a car meet last weekend. Victorian police also fined a learner driver for being out of home during the week, before the deputy commissioner reversed the decision. 
 In short, unless you've got an iron-clad reason to do so, it might be wise to just stay home this Easter.
Thursday 9 April
1730 - Nissan Australia is still planning to launch its all-new Juke small SUV before the middle of the year, despite confusion and uncertainty over whether restrictions will lift sufficiently.
With cars on the water, the company will plan for various contingencies to release the first all-new car from the embattled brand since the 2015 Navara. 
Other brands have been forced to completely reset the way they launch new cars. Audi and Volkswagen have provided limited solo access to new cars like the Audi Q7 update, Q3 Fastback and the forthcoming T-Cross.
1200 - Don't think for a second our magazines are slowing down despite the restrictions on our movements. Motor magazine has just pushed under amazing issue out to the printers - check out a preview HERE.
0930 - Canadian car dealers have been threatened with police prosecution if they don't stop offering test drives for customers, reports Automotive News Canada. 
Dealers are attempting to side-step the closure of their businesses - deemed non-essential by the Toronto area's provincial government - by taking cars to customer's houses for the purpose of a test drive.
Wednesday 8 April
2100 - As the automotive industry slowdown rumbles on, it's becoming clear that not every brand will make it out the other end of the crisis intact - or even at all.
Reports from the US suggest that brands like Nissan will struggle badly in its current form, with plans to restructure the brand in the US scuppered by the COVID-19 outbreak.
More than 10,000 Nissan employees have been sent home without pay, a practice that's known as furloughing in the US.
Tesla has also announced salary cuts and employee furloughs, which will extend at least until May. These salary cuts - 30 per cent for presidents, 20 per cent for VPs and 10 per cent for workers - are likely to extend to employees outside the US.
As well, Aston Martin has been forced to draw on high-interest loans to keep itself solvent, despite a more-than half a billion dollars (AUD) cash injection from its new investor, Lawrence Stroll.
Despite this cash infusion, the beleaguered British carmaker's share price plunged to its lowest level ever this week. Read the story HERE.
1500 - Volkswagen has taken the experiences learned in pre-selling its incoming T-Cross SUV and applied to a new online sales site for the wider business.
It allows customers to go right through the process of picking a car, adding extras and taking a deposit on a drive-away price, before assigning you to a nearby dealer to make the final collection arrangements within two days.
We'll bring you a full story about the new world of car buying over the Easter break.
0800 - The Canadian Gran Prix joins the ranks of postponed Formula 1 races in the 2020 season, putting the rest of the season in real jeopardy. The F1 community is largely based in the UK, and the British Grand Prix coincides with the 70th anniversary of the first-ever F1 race - but will the world be ready by July 19 to go racing again?
And more importantly, will all the teams be able to take part? Read Wheel's story about the state of the F1 paddock HERE
Tuesday April  7
1730 - Amazing news from Ford in the US, where its workers in Plymouth, Michigan have churned out one million face masks in just 13 days.
The numbers are quite amazing; from day one on March 13 where Ford workers assembled 1000 masks, they now make one mask every ten seconds, with seven-day shifts now churning out 200,000 hand-made face shields a day.
1400 - In the wake of the controversy over the learner driver fines and the general sense of uncertainty over driving at all, the lads at Motor have a message for you - just don't do it.
1100 - The fine for the Victorian learner caught breaking COVID-19 travel restriction rules has been rescinded by Victoria's deputy police commissioner.
"It has highlighted a significant issue in terms of something that needed clarity," Patton said on Melbourne radio station 3AW on Tuesday.
"Undertaking a driving lesson by itself, to simply go off and drive out somewhere … with your parent, you're not able to do it. t doesn't sit neatly with any of those permitted exemptions."
Monday April 6
1810 - Hyundai extends warranties that expire between March 1 and May 30 2020
Hyundai has launched its CARE warranty extension policy, which aims to support customers who may face difficulties in getting vehicle repairs due to restricted access to service centres during the COVID-19 pandemic.
All Hyundai passenger vehicles with original warranties that expire between March 1 and May 30 this year ill benefit from a warranty extension until May 31 2020. More than 1.21 million Hyundai vehicles in 175 countries will be eligible, including approximately 27,000 vehicles in Australia.
Hyundai Australia will contact all affected customers separately in the coming days with more details about the Hyundai CARE program.
1730 - Reports have emerged from Victoria of a learner driver and her mum being fined $1652 for COVID-19 non-compliance.
For those asking - yes - we've seen a copy of the actual infringement notice handed yesterday to a 17yo L Plater having a training drive with mum in the rain yesterday. pic.twitter.com/VjZTkNJVni

— Heidi Murphy (@heidimur) April 6, 2020
There is an argument around whether the pair had broken the rules of essential travel (it's suggested that the fine was issued five suburbs away from their home address), or whether they had been engaged in training that could not be reasonably completed within the confines of a dwelling. FULL STORY HERE
NSW Police seem to have a different take on the notion of learner-driving, though.
We reckon this one might go to court.
1630 - The team at 4x4 Australia has compiled a list of tracks and National Parks that are affected by the current crop of closures, which you can read here.
Tighter restrictions around the country have come into force, with Western Australia virtually annexing itself from the rest of the country, and Queensland closing off access to gold Coast beaches in the wake of large visitor numbers on the weekend.
1500 - Ford has opened up its 2nd Car complementary leasing program to health care workers, offering the use of a car for up to four weeks upon application. The scheme, which is offered to purchasers of new Fords in order for them to access a second Ford for 14 days over the course of two years, usually costs $500 to join.
HCWs don't need to be Ford customers, either, but they will still be liable for tolls and any damage incurred. Still, it's a terrific incentive.
1000 - Speaking of Ford, it also announced in a Facebook post that it is developing face shields for healthcare workers
Ford's team of Australian engineers and tech experts have been hands-on in creating face shields for doctors, nurses, support staff who are working - literally - in the face of coronavirus. The prototype shields are now in test phase.
Hats off to Ford Australia! /Tom Fraser
0800 - Some 58 car enthusiasts have been fined for flouting social distancing requirements in Queensland, each copping a hefty fine in the process.
Both passengers and drivers of the vehicles alike copped a $1334 penalty for ignoring recently introduced coronavirus laws, which prevent anyone leaving their house for anything other than 'essential' reasons. Read the full story HERE.
Saturday April 4
1730 - Some of the restrictions around travelling in NSW have been modified in light of how they have worked in the real world.
Caravan parks, for example, can now be used by overnight travellers, people who are working locally, and by locals who cannot stay in their primary place of residence (bushfire victims, for example).
NSW health minister Brad Hazzard also said that truck rest stops should be reopened as soon as possible.
1200 - The car industry's sales figures for March are, as expected, quite dire, but there's still more pain to come.
Many sales over the last 30 days were actually written in February, which helped to prop up an industry staggering under the weight of exchange rate pain, depressed demand as Aussie keep their hands in their pockets and the starting phase of the COVID-19-led shutdown of large swathes of the economy.
The monthly tally - between 30 and 40 per cent down across the board, in the main - was the worst recorded since the Global Financial Crisis of 2009, and the 24th straight month of decline.
Holden's star flared briefly, the once-dominant player in the Australian market rallying on the back of dealer distress sales ahead of a June shutdown of local operations.
Brands with affordable cars at the fore did well, including Kia, MG and Haval, while Audi, Land Rover and every one of FCA's brands (Fiat, Alfa Romeo, Jeep and Fiat) crashed to new lows.
But the ink will run an even richer shade of blood-red through the month of April, traditionally a strong one for car retailers at the back end of the Japanese financial year.
With dealer foot traffic decimated by social distancing requirements, most industries shuttered for the foreseeable future and huge job losses throughout the entire Australian workforce, new car sales will bear the brunt of the slowdown.
There may be a couple of bright spots; the construction industry is (for the moment at least) largely unaffected by the governmental restrictions around movement, which means utes and vans will still be in demand. As well, excellent rainfall in country areas means that farming machinery is still selling well.
Elsewhere, car companies are scrambling to adapt to the New Normal. Toyota is offering an online sales service, while Ford is advertising a pick-up service for mechanical repairs.
We fear for some of the smaller brands that were struggling to sell cars before the onset of the coronavirus shutdown, though - it may be easier for some to exit the Australian market for the interim, rather than ride out what could potentially be another six months of pure agony on a sales front./Tim Robson
Friday April 3
2300 - Good news finally, especially for the kids of WA.
IMPORTANT ANNOUNCEMENT FOR WA KIDS (and chocolate lovers)

Yesterday, I received a letter from Taylah, who is nine years old and lives in Thornlie.

Taylah asks:

"Will the Easter Bunny be able to come to WA this year?"

Well Taylah, I have some very important news: pic.twitter.com/Rls5BK6pDY

— Mark McGowan (@MarkMcGowanMP) April 3, 2020
1415 - Ford has announced that it is offering service customers a pick-up/drop-off service through a selected number of its dealers.
Customers book the service through Ford's main site, their car is collected, serviced and then cleaned before being returned.
The pick-up service extends to scheduling servicing at this stage, and loaner cars can still be booked as well.
Ford says it will clean multiple points in the car. Good idea or a bit irresponsible?
The company says that its dealer network is still operating as normal, despite increasing retail outlet closures throughout Australia.
1500 - We're currently building a story around the changes and cancellations to government services related to driving. What we're learning is that most online transactions are unaffected, but other things like driver tests have been affected.
Our customers and staff remain our priority during this time. We are putting in extra measures to ensure your safety. #servicensw #covid19 #covid19australia #Covid_19australia pic.twitter.com/vVHKT5hLUO

— Service NSW (@ServiceNSW) April 2, 2020
Driver testing across NSW has also been postponed for a minimum period of two months, according to Service NSW, and it applies to all practical driver assessments. It does not apply to assessments conducted via the Heavy Vehicle Competency Based Assessment Program or any other assessment provider outside of Service NSW, though.
In NSW, 12-month moratoriums on the retesting of drivers over 70 years old have also been implemented.
1200 - File this one under 'Really? I didn't think anyone was flying any more?' Virgin and Qantas have both confirmed that they will cut back on their inflight catering arrangements, with Virgin canning free snacks for business class travellers and Qantas winding all services right back to a snack-only service.
This comes on top of the closure of all airport lounges and most sit-down cafes... so grab a snack before you head to the airport, maybe?
Thursday April 2
1730 - Western Australia will further tighten its borders on Sunday night (April 5), turning back all travellers that aren't residents.
Everyone knows that we are in this together – and for that, I know, we will get through this.

If you had asked me a couple months ago that we would be closing the WA border, I would have laughed.

— Mark McGowan (@MarkMcGowanMP) April 2, 2020
"WA is in a unique position, our isolation is our best defence, and we need to use it to our advantage," the state's premier Mark McGowan said.
"While our overall numbers are encouraging, we need to take further steps to protect our state. In effect, we'll be turning Western Australia into an island within an island — our own country." Read our updated travel restriction story here
1200 - McDonald's has announced that it will offer milk and bread at its drive-thru windows.
While the restaurants themselves are mostly closed, Maccas will sell two-litre bottles of milk, buns and English muffins alongside its regular menu.
1030 - NSW Police have charged a driver of a Lamborghini after catching him travelling 160km/h in a 90km/h zone overnight. His excuse? He was heading to Westmead Hospital for a COVID-19 test.
Officers booked the man and suspended his licence, but allowed him to continue to the hospital, where he was tested before commencing a self-imposed 14-day quarantine period.
"Drivers shouldn't break the road rules under any circumstances," Assistant Police Commissioner Michael Corboy said in a statement.
"If you think you may have symptoms of COVID-19 and want to seek help from a doctor or hospital, call ahead of time to book an appointment, or visit a NSW Health COVID-19/Flu assessment clinic should you become unwell."
0800 - while official results aren't due out until tomorrow, sales of new cars have predictably tanked in Australia for March. While Toyota reportedly improved its position slightly, most brands took a 30 to 40 per cent sales hit in the wake of the spread of COVID-19.
Wednesday April 1 
1530 - Motorsport Australia (nee CAMS) has reduced the pay and cut the hours of its Melbourne-based staff.
"This was certainly a tough request to deliver to our staff; however they all understood the situation we now find ourselves in," said CEP Eugene Arocca.
Most staff will be retained under the federal government Job Keeper plan, with Arocca hopeful that a glut of postponed events will still run in the second half of the year.
1200 - Most states and territories have gotten a lot tougher on people moving around, so here's an update to our travel restriction story.
0700 - No one really feels much like joking around at the moment, but here's a beautiful moment of April Fool's brevity from Aussie car care company Bowden's Own.
You can check out the best April Fool's car gags from over the years by clicking here, too.
Tuesday 31 March
1700 - A new website, www.raceagainstcovid19.com.au, has been established to serve as a portal for racing teams, engineering firms, similar organisations, or individuals, to join the cause to design and build medical gear to fight the coronavirus both here and overseas.
Following in the footsteps of programs already underway across the motorsport space, the program was founded by racer and automotive consultant Renato Loberto, who is already in regular contact with relevant public health advisors, government and the Australian Defence Force in order to ascertain what resources will be required.
Race against COVID-19 will facilitate a response to aid in the production and distribution of items requested by the healthcare system. Read the full story HERE
"We're calling on local teams, engineering firms and people with skills that they think may help to put their details into the website, so we can coordinate a response and assist with whatever we're told the health system requires, whenever they need it," said Loberto.
0700 - Triple Eight Engineering - home of the Red Bull Holden Racing team - has shown off a prototype patient ventilator that its engineering staff designed and prototyped in just four days. More in our updated story here.
Link to full video 👉 https://t.co/xtgB7Pnc2T

— Triple Eight Race Engineering (@tripleeightaus) March 30, 2020
Monday 30 March
2300 - Red Bull Racing's outspoken Austrian race advisor Helmut Marko has suggested that the team's four drivers, plus its junior development driver squad, should get together for a 'coronavirus camp', so the team could get through the infection process and be able to race the rest of the year unhindered. 
"The idea was to organise a camp where we could bridge this - mentally and physically - somewhat dead time," he told an Austrian TV interviewer.
"And that would be the ideal time for the infection to come.
"These are all strong young men in really good health.
"That way they would be prepared whenever the action starts, and you can be ready for what will probably be a very tough championship once it starts."
Marko went on to say that the idea didn't gain much traction within the team.
"Let's put it this way: it has not been well received," he deadpanned.
1715 - The NT just got serious about shutting its borders, telling travellers that not only will they be quarantined in a hotel for 14 days, but they will also have to pay for it.
'Do not cross this line': NT arrivals face $2,500 bill for hotel quarantine #DarwinNT https://t.co/oOyRE6yfxx

— Northern Territory (@DarNT) March 30, 2020
See our story about border closures HERE
1500 - Just heard that Sydney Motorsport Park has shut its doors until at least the end of April. The circuit in Sydney's west is typically booked out almost every day.
Other circuits including Phillip Island in Victoria and Wakefield Park near Goulburn in NSW appear to be operational but under the federal government's latest Non-essential Activity Directive where no more than two people can congregate outside a family unit, expect those statuses to change soon.
In related news, the Supercars e-series is in full prep mode.
We've released the first All Stars Eseries liveries 👀📸

➡️ https://t.co/gkNfBGQwFO #VASC

— Supercars (@supercars) March 30, 2020
Though not everyone is taking it that seriously... 
"Supercars set up this practice session and I got disqualified from it already and I wasn't allowed to rejoin," said Erebus racer David Reynolds, who freely admits he's no sim racer.
"I crashed the car and then I started driving backwards on the track and then they disqualified me so I couldn't log back in!
"I don't want to embarrass myself too much but I think the more I embarrass myself on the Eseries, the funnier it will be."
1200 - More and more businesses are voluntarily closing doors in Australia in the wake of tougher social distancing measures, but large auto retailers like Supercheap Auto are still trading.
Toyota has also started selling cars online via its main website, which we'll do a story on for later today.
0800 - Two Ford workers in the US have died from COVID-19 infection in the Detroit area, while seven FCA employees have also succumbed to the disease.
The deaths occurred across two of Ford's Detroit facilities, throwing into doubt the company's plans to attempt to reopen some plants in a little over two week's time. All three of the US's largest carmakers are on pause in the state. Infections have climbed through 100,000 in the US.
Sunday 29 March
2000 - So we've avoided (so far) more stringent lock-downs in Australia. Here's what stage four lockdown means to our Kiwi mates in the car game.
"Workers involved in the provision of essential maintenance and safety services where the services are limited to maintaining other essential services and their vehicles (e.g. repairing emergency vehicles or parts replacement for a vehicle moving essential freight)," reads a New Zealand government document that refers to essentials workers.
Rental vans in New Zealand lay dormant
"Ideally these would be provided on demand. The types of capability deemed essential are: maintenance and engineering staff; vehicle recovery and assistance services; vehicle repairers, inspectors, certifiers, mechanics and vehicle part providers.
"Vehicle recovery and assistance services are also available for essential private travel such as groceries and healthcare."
1730 - A local Supercars team has designed a device that's meant to help health care workers treat coronavirus patients in Australian hospitals.
Erebus Motorsport is using its downtime from racing to build both clever perspex treatment shields and bespoke CPAP masks using its in-house capabilities.
1200 - Another motor show bites the dust, as the Detroit Motor Show is cancelled, despite its June start date.
It follows the cancellation of the Geneva Show, while the venue for the New York Motor Show in April is now a field hospital (below).
Saturday 28 March
1430 - Speaking of the VW Group...
Stay at home, keep your distance, stay healthy, support each other – we are in this together. As a global company and a global community, our highest priority is to identify any opportunities to #flattenthecurve.
Stay safe. pic.twitter.com/itMvRPcV33

— Audi (@AudiOfficial) March 18, 2020
1400 - VW boss Herbert Diess says the carmaker is tearing up about US$2.2b ($3.2b) a week as sales outside China grind to a halt.
Diess says the company is looking at ways it can open European facilities again by improving hygiene and distancing via lessons learnt from its Chinese operations. Geely is a good example of how the virus can be contained within a car plant.
1100 - President Trump is at it again, accusing GM in one breath of ripping off the US government with its plan to build medical-grade ventilators for US patients, before turning around the next morning and ordering the company to do exactly that. Read the full story HERE
General Motors MUST immediately open their stupidly abandoned Lordstown plant in Ohio, or some other plant, and START MAKING VENTILATORS, NOW!!!!!! FORD, GET GOING ON VENTILATORS, FAST!!!!!! @GeneralMotors @Ford

— Donald J. Trump (@realDonaldTrump) March 27, 2020
Friday 27 March
0900 - Telsa kicked hard against the state-sanctioned shuttering of its San Francisco car plant, but it eventually complied with the legally enforceable closure - to a point.
Reports are coming in that a number of end-of-line workers were required to attend the plant - which employes 10,000 people - to finish a batch of cars in time for end-of-quarter shipping. Local police, though, inspected the plant on Wednesday and declared themselves satisfied that the company had largely complied with the order.
The company recently built its millionth car at the Freemont facility, which started life as a Toyota factory.
0830 - The Indy 500, arguably the last large-scale sporting event on the planet that hadn't made an announcement about its 2020 plans, will delay the event by four months, with a planned date of 24 August.
This will also push back Scott McLaughlin's IndyCar series debut to July 4.
Our take? It's pretty unlikely the event will run at all - up to 500,000 people can fit into the Indianapolis Speedway at once, and even if the virus has largely run its course, it will have likely done a lot of damage to the American economy. This will not only impact people's ability to buy tickets to the event, but will affect how many teams are actually able to start the race.
Thursday 26 March
1730 - Car manufacturers are turning their plants into ventilator factories, including Ford which could help with the production of machines for Australia.
One of these is Ford, which this week announced it would provide General Electric Healthcare, which already produces ventilators, with a "simplified design" for ventilators that would allow it to significantly boost stocks in the US. We're not sure it'll help with the acute shortage, though, which we detail here.
The Australian government has immediately engaged in talks with Ford Australia, which has offered to share its design knowledge here too.
On Monday Fiat began converting one of its car plants in China to start making about one million masks a month, while General Motors, Nissan, Tesla and UK-based Formula 1 teams have also committed to mobilise to help treat COVID-19.
1200 - The Australian travel plans of thousands of people have been thrown into chaos, as states and territories across the nation shut their borders to all but essential traffic. Click here for details of the different restrictions across each jurisdiction.
Wednesday 25 March
1030 - More than 900,000 people watched a recent iRacing NASCAR event that featured several prominent drivers from the series.
As well, the online simulation that hosted the event, iRacing, is experiencing unprecedented sign-up numbers. Check out our review here.
0900 - Further lockdown measures in Australia have still managed to sidestep most car-related industries. However, further lockdown measures are expected in the next days, which will likely affect the balance of retail that is still functioning here in Australia.
0800 - FCA in the United States is reporting that two of its plant workers have died of COVID-19. The workers were at separate facilities in Michigan and Indiana. All FCA plants in the US are currently closed.
Tuesday 24 March
17:45 - David Bonnici explains the steps you can take if you're out of work and can't pay off a car/personal loan.
14:00 - Car dealers remain open ... for now
The Federal Chamber of Automotive Industries (FCAI) has advised that carmakers and their dealer networks will remain open to provide sales and service support to customers as long as COVID-19 regulations allow.
FCAI chief executive Tony Weber said motor vehicle dealerships supply essential services to the community through their service and repair centres and key supply chain facilities.
"With the increasing focus on social distancing, safe and reliable private transport is essential to enable communities and businesses to continue to operate.
Weber said the industry has adopted a number of additional hygiene and safety protocols, including extended cleaning processes, personal distancing, and contactless sales and service consultations.
He said at this stage there have been no restrictions to stock including new vehicles or parts.
1330 - In less than two weeks, the Jacob Javits Centre in New York was supposed to be hosting the 2020 New York International Auto Show. Instead, US Army corps are turning the convention centre into a field hospital. 
The show was cancelled in the wake of the Geneva Motor Show's closure, which cost carmakers upwards of $500 million collectively after stands were built then abandoned.
1230 - this amazing image is from Times Square in New York yesterday. 
The world is slowly shutting down thanks to containment measures designed to slow the impact of the disease.
1130 - Tony O'Kane reports on the first-ever sanctioned e-Grand Prix, and it was a little bit weird.
Pro racing tips, from @Max33Verstappen 🤔

⚪️ Keep computer on
🔘 Turn off computer

⚪️ Keep it clean
🔘 Take everyone out at Turn 1

⚪️ Drive normally
🔘 Do a lap in reverse

⚪️ Take the chequered flag
🔘 Send it into the pit wall#F1 #VirtualGP pic.twitter.com/VvaeODZO8H

— Formula 1 (@F1) March 23, 2020
The race came just hours before F1 announced it would also postpone its round in Baku in early June, pushing the start of the truncated 2020 season out even further.
1100 - Volkswagen CEO Herbert Diess is warning that car factory closures may last longer than two or three weeks, as the pandemic takes a firm hold in Europe.
"Most of our factories close for two weeks these days, in some regions for three," he said in a LinkedIn post. "It is likely that the measures will take longer. The spread of the virus is unlikely to have stopped in several weeks. So we have to be prepared to live with the threat for a long time - until effective medication or vaccination becomes available.
"Until then, preventing the transmission and slowing down the spread are the main measures. I therefore urge you to adhere to the advice and guidelines of local administrations in an extremely disciplined manner."
He also said that 100,000 VW workers in China are returning to work. "The sanitary and organizational measures are being continued there with great discipline - exemplary in my view - in order to keep the spread of the virus under control even after acute containment," he said.
1030 - Taxi services around the country have started to offer 'touch-free' parcel delivery services, which are facilitated via apps.
As more and more people are sent home to work, traditional infrastructure as had to rapidly adapt - and cabbies aren't having to hang around airports and train stations at the moment, so they are losing valuable income.
0800 - GM has shut down its plant in Bowling Green, Kentucky, which produces the Chevrolet Corvette C8.
The new mid-engined supercar, which was due in Australia in RHD form before Holden pulled out, has been plagued by delays, and had only started to roll off the production line ten days prior to the closure, which is being put down to "deep cleaning".
Monday 23 March
With the volume of news rolling through the general network about closures of cafes, pubs and restaurants, not a lot of car news made it through!
Locally, we're watching what will happen with the potential closure of businesses related to using our cars, like mechanics, insurance companies and even state registry offices, but nothing appears to be affected at the moment.
Worth noting, though, that New Zealand could serve as a barometer for what could happen here - the closure of essentially EVERYTHING apart from the basics is a stunning move in the current climate./Tim Robson 
Sunday 22 March  
2100 - So-called Stage One closures by the federal government have been aimed at clubs, pubs and restaurants, but service stations and retail outlets like mechanics will remain open.
The bans will be in place from midday Monday.
1845 - Scottish authorities are turning away so-called self-isolators arriving from the UK mainland, with officials declaring themselves "furious" with the campervan-driving escapees. Similar to Australia, travellers in the UK are being asked to restrict journeys to essential trips.
1700 - More states have announced border control measures, including South Australia and Western Australia, that will require all entrants to self-isolate for 14 days. This effectively puts the lid on domestic travel for the majority of Australians.
1400 - Lewis Hamilton has moved to allay fears that he might have been exposed to COVID-19, after he was shown meeting with US actor Idris Elba who has since fallen ill with the virus.
 "There has been speculation about my health, after I was at an event where two people later tested positive for coronavirus," said the six-time world champion (below in Melbourne).
"I have zero symptoms and it has now been 17 days since I saw Sophie and Idris. I have been in touch with Idris and happy to hear he is OK.
"I did speak to my doctor and double-checked if I needed to take a test but the truth is, there is a limited amount of tests available and there are people who need it more than I do, especially when I wasn't showing any symptoms at all."
1015 - It looks like petrol companies are, as we feared, holding petrol prices high in the face of low crude oil prices.
Despite the odd independent petrol station offering sub-dollar 91RON, the average price of petrol in Australia has held steady in the $1.40 region, as the fuel industry attempts to make bank before the inevitable slowdown of demand.
You can read our in-depth story here.
1000 - Gratuitous plug time... make sure you tune into today's ep of WhichCar TV, because it's truly one for the (dark) ages. Check out the preview HERE and tune into Channel 10 at 4pm AEDT today.
0900 - it's been revealed that the 14 McLaren F1 team members isolated after the abandoned Australian Grand Prix are free of the COVID-19 virus.
Seven crew members were tested and declared free of the disease, while the other seven weren't required to test. The single crew member who contracted the coronavirus - and who essentially ended the GP weekend before it started - is also well on the way to recovery.
While the crew members will wing their way home early this week, it hasn't been all bad news. Senior team personnel reportedly hit Melbourne's CBD for a stash of PlayStation 4 consoles, a Nintendo Switch, indoor soccer balls and a dart set, so the crew could while away the hours.
0800 - The Northern Territory government will "close the gate" next week in its own words, declaring a virtual stage of siege as it restricts all travel into the territory.
Border controls will be put in place from Tuesday, with all arrivals by land, sea or air required by law to self-isolate for 14 days or face stiff penalties.
"The measures we are implementing are tough, but their purpose is clear: to save lives, and keep Territorians safe. That will always be our first priority," chief minister Michael Gunner said in a strongly-worded statement.
"We can't build a wall, but we can put in gates. Saving lives and saving jobs are my only focus right now, everything else can get in the bin."
Someone ought to tell his social media manager...
Welcome to glamping, #KingsCanyon Resort style, where you'll wake to the Red Centre at its finest 🙌 https://t.co/4Bslk7os0M

Photo: carlenejayne/via IG in @VisitCentralAus #NTaustralia pic.twitter.com/ztYfeUhVPV

— Northern Territory - Australia (@NT_Australia) March 21, 2020
The NT joins Tasmania in drawing the door down on visitors, with the Apple Isle imposing a similar 14-day self-isolation requirement for visitors and returning residents alike.
The team from 4x4 Australia magazine will discuss the impact of the closures further during the week.
Saturday 21 March  
1730 - In a slightly ironic twist, Waymo - the single biggest operator of robotaxis and driverless cars in the US - is halting its robotaxi operation in Arizona.
It will, however, continue to run a fleet of remotely controlled driverless cars over a 1200km2 area in the same state.
1400 - Is Australia finally getting the message? Bondi Beach has been cleared of beachgoers after thousands flocked to the famed shores on Friday.
The move comes as Australia locks foreign travellers from its borders, introduces a 500-person outdoor gathering limit and a 4m2 personal space rule
1045 - Some interesting observations around ride-sharing services like Uber and Didi are emerging. While passenger trips in the US have dropped by some 20 percent in the last week, much of the shortfall is being made up in food delivery jobs, as restaurants and bars pivot to a delivery model in the wake of city closures.
As well, if the ride-hailing company's business declined by 80 percent year-over-year, there would still be US$4 billion in cash-on-hand by the end of the year, according to Uber CEO Dara Khosrowshahi.
He tweeted that two-thirds of Uber's costs, like insurance and driver sign-up subsidies, vanish if trips don't occur.
This tweet, though, highlights the plight of many ride-share drivers - the gig economy means that if they don't get fares, they don't get paid.
New backseat placard for my car. I'm pretty resigned to catching #coronavirus at some point, but until then, I need the money too much to just stop driving. pic.twitter.com/3lkPKHRbUp

— Your Uber Driver (@uber_trips) March 13, 2020
0800 - Tesla will be forced to suspend operations at its biggest factory in San Francisco, after initially scoring an exemption. It will also suspend ops at a New York facility.
Meanwhile, Elon Musk - who is still talking down the dangers of COVID-19 - has said that his company will look at using its SpaceX and car making abilities to build respirators for COVID-19 patients, but thinks that by the time the company could "make enough to matter" there will be no need for them.
As an aside, Tesla has also announced that it has started deliveries of its Model 3-based Model Y SUV. It will build them in the YUS and China, but the enforced shutdowns are sure to dent the rollout.
Model Y deliveries begin!https://t.co/ZhuiM5MTOf pic.twitter.com/3gX6MBPmhp

— Tesla (@Tesla) March 16, 2020
Friday 20 March
1435 - Toyota reports that a worker in its Takaoka plant has tested positive to COVID-19. The young worker self-diagnosed while he was off duty, and hasn't returned to the plant, which builds the RAV4 and Corolla sedan.
1530 - Ford and GM are looking at ways to switch some manufacturing capacity over to the production of medical equipment to help treat the coronavirus. GM boss Mary Barra spoke with the Trump administration about the idea earlier this week, but no firm plans have been made.
WhichCar's take; while this sounds like a great idea, the incredibly specialised nature of car manufacturing means that it's more of a noble idea than hard reality. Ventilation machines to help affected patients breathe will be a key weapon in the fight, and so here's hoping that a small skunkworks team can come up with a way to quickly design, test and build a suitable product in time./Tim Robson
1215 - US President Donald Trump has told US governors that his administration is "watching the auto industry very much."
Trump - a former Ferrari man - has told them that the industry has reached out for help and that "we're going to be helping them a little bit."
That help could come in the form of temporary tariff relief, while carmakers and auto dealers petitioned Trump earlier in the week to have car repair facilities classified as essential businesses. The distinction will mean that mechanics can remain open in the event of a lockdown.
1020 - Lockdown is in full effect in Spain, but there's an exemption for walking your pet so it can do its business. Apparently, dressing in a T-Rex costume doesn't count...
En estado de alarma se permite el paseo de mascotas acompañadas de una persona, siempre con paseos cortos para hacer sus necesidades.

El que tengas complejo de Tyrannosaurus rex no está contemplado.#quédateencasa pic.twitter.com/C8dWkrvAdm

— Policía Local Murcia (@MurciaPolicia) March 16, 2020
0930 - Kia is pushing on with car production where a lot of the world isn't. Here's an excerpt from our recent new Sorento coverage; 
"Despite the coronavirus' impact on South Korea, production at Kia's manufacturing facilities has been relatively unaffected and isn't expected to effect deliveries of Australia-bound vehicles, including the new-generation Sorento large SUV that's slated to launch here in June.
 New Kia Sorento
"A Kia Australia spokesman told WhichCar it takes around 14 days for cars to travel from Korea to Australia by ship, which allows the company to work with any new quarantine measures introduced to curtail the disease in Australia."
0625 - The Monaco Grand Prix has been cancelled, not postponed, for 2020. As we predicted, the Spanish and Dutch events have been postponed, meaning a June start at the earliest for the F1 season. 
We'll have to wait until May 2021 for our next fix of Monaco magic 💔

So here's a reminder of why those streets are so special 🙂#F1 #MonacoGP 🇲🇨 pic.twitter.com/70qgyq9iFM

— Formula 1 (@F1) March 19, 2020
It's the first time in 54 years a race won't run around the principality.
As well, the teams have all agreed to delay the introduction of sweeping new rules designed to make for more exciting racing until 2022.
Thursday 19 March
2300 - Toyota boss Akio Toyoda has told a meeting of Japanese automotive makers that the company will strive to continue production in its home country.
"Production shall be continued on the shop floor," Toyoda said in a press conference. "Otherwise, we will cause troubles and inconvenience to our customers. So, we shall never stop production activities."
Interestingly, though, Toyoda said that responding to the virus is opening the industry's eyes to alternative ways of working, like telecommuting and advanced crisis management. It's also been reported that 25,000 Indian auto executives are already working from home.
1745 - toilet paper AND a DeLorean? Win!
March 19, 2020
1700 - Supercars star Scott McLaughlin can see the funny side of his potential future as a virtual racer with this fan interaction this arvo;
1600 - PM Scott Morrison has announced that the government will support the local economy with a $100 billion package for lenders. The gist is that funds will be easier to obtain for small businesses like mechanics and the like, thanks to an interest rate cut.
1230 - The car industry is a bit nervous about the continuing fall of the Aussie dollar against key currencies like the US dollar. WhichCar is doing a call-round to see who might need to move on their pricing as a result, but the team from Hyundai Australia told us that they're quite used to currency fluctuations. 
A bit of background; pricing on new cars is a complex and challenging metric that changes day by day and sometimes minute by minute. Often, prices for new cars are decided on the eve of, or even of the day of a new vehicle launch.
The cheaper the vehicle, the tighter the margins, too, as this chat with Hyundai Australia's Andrew Tuatahi reveals. So every movement in exchange rates means a potential price adjustment on a new car.
1130 - the memes and the gags are flowing thick and fast...
1100 - The 2020 running of the Le Mans 24h has fallen victim to the COVID-19 virus, with organisers suggesting that - like Supercars and F1 - that it will push the race back to September. But how will this all work?
1030 - Rolls-Royce has announced that it will close its facilities for two weeks, while Maserati has pushed back a planned event that would have taken the sheets off new products for the storied Italian carmaker.
0900 - Geely is leading the way when it comes to preventing its workforce from contracting the COVID-19 virus in its Chinese facilities, and is a high water mark for the global industry.
Wednesday 18 March - If you're confused by what the Australian government's first round of fiscal stimulus means for buying a new car, you're not alone. Toby Hagon has done his best to unravel the mystery around the $150k tax write-down.
Tuesday 17 March - Further to Andy's excellent piece looking at supply lines, the sales of cars across the globe are already taking a huge hammering, while car companies across the globe are shuttering key facilities. Might be a good time to buy a new ute, then?
Monday 16 March - Andy Enright from Wheels has looked at the impact of the virus on industry supply chains, and it makes for sobering reading.
Australian police forces are also taking action by opting out of static (or mass) roadside breath testing.
Elon Musk has added his two cents, too, though we suspect he'll regret his cavalier attitude towards COVID-19.
Saturday 14 March - the cancellation of the AGP could be regarded as a marker in the automotive space that things have changed for the foreseeable future. Catch up on an amazing day HERE.
Friday 13 March - the emerging crisis has had an almost instant effect on the travel industry, and the ensuing excess of airline seats makes for an interesting comparison at a CO2 level.
https://www.whichcar.com.au/gaming/reviews/iracing-2019-review